Tag: Libertarianism
Via Andrew Sullivan Have Tea Parties and Stimulus broken the bond between liberals and libertarians?
Reason.Com's Matt Welch: Speaking only for myself, I don't see libertarianism moving rightward, I see rightward moving libertarian. Which is to be expected, what with the whole not-having-power thing (as Kilgore points out, the Democrats' wilderness years included such incongruities as Markos Moulitsas penning "libertarian Democrat" manifestos)….What I do care about, regardless of who's president, is human freedom and prosperity. And I strongly and consistently suspect that when the government accumulates more power, I and everyone else (except those wielding it) have less of which I seek. Republicans diss libertarians when they're in power, and Democrats diss libertarians when they're in power. Their changing attitudes toward our little (albeit growing) tribe is mildly interesting, but it's about as newsworthy (and painful) as a dog biting a chew toy.
Of course it doesn't seem as if Liberals and Libertarians ever had a real world political alliance (as economic liberals and social conservatives had), but it is unfortunate if major participants seem to be giving up on an idea of closer and more empathetic discussions between those of these two philosophies, given the significant mutual benefit that is possible and the over-riding consensus on the end outcome: Expanding Freedom.
Read the full article »
If you take a regular gander at libertarian voices in this country, you often find they arn't a very happy bunch. Despite thirty years of economic reform running almost entirely in their direction, they always have a nervous skittishness about any sign of backtracking, with frequent prophetic warnings about imminent economic doom. A large part of this is based on the widespread recognition that libertarian and indeed free market ideas arn't actually that popular in most countries in the world. What better demonstration could there be than the 2007 dumping of the Howard Government for its support for WorkChoices, or the public embrace of Rudd and his heavy spending on health and education (the two area's which always lead public opinion polls in terms of focus area's over tax, security or immigration). The Liberal Democratic Party, the closest to a Libertarian party in this country, receives well under 1% of the vote
Yet Libertarian views have four significant advantages:
1) They advocate more freedom: Whatever minor philosophical differences there are, Libertarians can generally be identified as favouring social and economic freedom. Of course in individual circumstances there are debates about the consequences and the like (ie drugs, abortion, fireworks), but in general being identified as being in favour of such a key western value is of tremendous value. Conservatives have spent 30 years grasping for that mantle, and only sometimes succeed in getting anywhere near it.
2) They play to people's self interest. Despite the obvious flaw in this reasoning, most people think they are above average, and would like a little more of their own tax dollars. Now while this can certainly be over-sold, (and the strongest vote against workchoices came from those not affected by it) this is a pretty good platform from which to appeal to people. Instead of having to make a moral or ethical case about caring for the 'other' as social democrats do (witness Obama's struggle for health care in the US), Libertarians can appeal to your personal sense of competence, capability and resilience. You should choose who your doctor is, where your kids go to school, how to spend your money, etc etc. Most people seem to recognise that the common wealth benefits us all, but still see themselves as seperate from and more capable than most they run into. Libertarians get to play to this, with a clear set of policy proposals that have a logic of their own (you make it, you keep it) rather than the re-distributionism of the big government advocates (we'll give you more in handouts).
3) It seems to work: After thirty years of general movement towards free market policies we have western societies that sit on the right side of 'History', have seen significant growth in GDP, disposable income, attainable products and services, quality of life, brought over a billion people out of poverty, and had few of the claimed major consequences of opponents rhetoric. Sure, the welfare state and very slow changes have been there to buffet the winds of change, and markets clearly don't work in some areas (defence, health, education) in the way they work in others (ie need some public input to achieve outcomes), but we have reduced taxes, sold off assets, and deregulated our markets for great public benefit. Yet the favoritism for free trade and libertarianism doesn't seem to have significantly budged despite these successes.
4) And most importantly: They are the natural party of wealth in our society. Money has always had and always will have a significant influence in democratic societies. Indeed most of the big fights that lead to democracy in the west have been centered around the wealthy trying to exert their influence (the original kings councils that ushered in the parliamentary system in Britain) and to protect that wealth from undue government control (the US 'no taxation without representation revolution). Elections are very expensive businesses and while money usually follows power (meaning the major parties abilities to enact current changes will drive corporate interest), most businesses, entrepreneurs or wealthy agents in society would also be very sympathetic to those proposing less regulation, less taxation and an outsourced, reduced government.
The Australian Labor party is one of the most successful left wing parties in the west precisely because their union beginning and links gave them a financial base to compete with the big money interests who supported the conservatives. But given the Conservatives in Australia have only a half-hearted endorsement of free market and libertarian ideals (at the same time as introducing WorkChoices, Howard was presiding over the highest level of Government welfare spending in this country's history), it is a wonder that business elements, especially those trying to challenge the status quo of a particular market, or those so sure of their capability in a particular arena dont try and pull the Conservatives towards the Libertarian side of the dial with strategic donations.
Despite these three great advantages, appealing to individual desire for freedom, individual self-interest and the natural alliance with the moneyed interests in a country, it is a wonder why Libertarian voices havn't done that well. Perhaps the main reason I can see is that Libertarians have usually been unable to even agree to enter the political debate, and as such have little to no public face. Without a professional effort at public advocacy, what arguments are made for Libertarian views are usually either pitched as high economics or simplistic scare stories. Indeed whilst I am often very sympathetic with their overall ideals, and spend a fair bit of time reading libertarian literature and chatting with them, I so often feel somewhat talked down to. The answer is usually so obvious to them that your greed or ignorance seems the only reason you don't fall to your knees and accept their wisdom.
Likewise, when presented to much of the general public, Libertarian views are seen to be representative of greed and avarice, while they see the economics and logic of their positions both more just and more likely to benefit the disadvantaged. (On that there is some scope for debate, but it's defendable, and certainly shouldn't be as dismissed as it currently is). Finally, both for reasons of ideology, and because of the reception that the ideology has recieved, there is a quite clear distrust if not contempt for democracy amongst a clear minority of Libertarians that then slows or even damages efforts to promote their ideas to the public.
So why then is Libertarianism such a disregarded and discredited ideology in Australia, indeed in the world?
This blog is of course called chasing the norm, and the latest hot norm is of course to claim/disclaim the possibility of an alliance between Liberals and Libertarians, at least intellectually if not politically (Libertarians can only offer a few votes, but do represent a solid branch of the Reagan Coalition between Economic Liberals and Social Conservatives, which Liberals would love to rip out). This was a topic brought up in 2006 by Markos Moulitsas (of Daily Kos fame), urging Libertarians to vote Democrat, and has been raised on a number of major blogs recently see here here and here.
If this is marriage is to be one of more than just an American born alliance of political convenience to defeat the currently inept Republican party, then some changes in rhetoric and perception need to occur on both sides. That is to say, I believe most of the differences are political over policy based. They are tough to change, but not insurmountable.
The great difference between Liberals and Libertarianism is the question of Economics. Indeed many of them are proud to say Political Economy is the only issue upon which they vote. Whilst I have great sympathy for the basis of their arguments (leaving aside the fringe wing which want changes like returning to the Gold Standard), this economics and only economics issue is crippling to both the wider appeal of Liberatarianism, and its usefulness as a political ideology. Libertarians are able to be so dogmatic because they wish away so many of the associated issues, despite having a consistent ideological end point with Liberals.
For example Education: Whilst a fully rounded view of Freedom would desire Individuals to be educated to as high a standard as possible so as to make the most of their opportunities and freedoms, and allowing them to be as capable and prosperous individuals as possible (which offers compensatory economic benefits to the society). So on a view of freedom as individual flourishing you would support a universal education system. But on a view of freedom as purely an economic interaction, then government education imposes tax burdens on the individual and crowds out the market for private education providers, thus allowing the individual the freedom to choose their (or their children's) own level of education (if any), or go into business running a school. Now I doubt many Libertarians actually embrace the idea of vast sections of society choosing not to educate their kids (indeed Libertarianism is such a niche that it's reserved almost entirely for those who are quite well educated already). Thus & combined with their rhetorical focus almost purely on economic issues, what begins as a respectable duel legged stance of freedom in education (choosing ones education and/or choosing to open a private school) ends up being a economic pronged attack on government solely to allow a few more people to open private schools, whilst degrading the entire education system of the country.
There's also a problem in the economics here too, that whilst private schools reduce the burden on tax payers (around $4000 a student in Australia), the field of education simply doesn't offer the potential for a real working market. Whilst perhaps few choices are more important for an individual, our choices are actually very limited for what schools we will send our kids. Only in the largest of cities is there more than a handful of choices (indeed in some towns only one or even no school may be privately economically viable), and yet factors such as geography, closeness to work, the presence of school friends attending, the religion (and the church has been the biggest private educator for millenia) all serve to limit our choice dramatically. What should be a parent choosing the very best school possible for the education and well being of their child often ends up a decision of convenience between no more than 2-3 options without significant information ever likely to be available (you can test drive a ford, or return a broken hair dryer, but what if your kid doesnt like the school, or you dont like some of their attitudes which are hidden behind the glossy brochures).
From a economic driven view of freedom it makes sense for education to be private, but in outcome it ends up a petty and small effort to promote private education (or simply decry government wherever it is found) without actually encouraging significantly better individual choice for parents, or individual freedom for children by receiving a high quality education to enable them to fearlessly engage the world upon graduation.
This sidestepping of experience for a desire for ideological consistency (ie process over outcome) seems well encapsulated by this anecdote from Matt Steinglass:
I keep encountering American libertarians traveling in Vietnam, and each time I think they're going to be forced to revisit some of their core assumptions; they all like Vietnam because in comparison to other third-world countries there's no crime, the services actually function, governance works, and therefore it's a great place to do business and has a thriving and expanding capitalist economy. I imagine they will be forced to perceive the ways in which Vietnam's extremely group-oriented Confucian culture, where decisions are generally made at the level of the family or the work unit rather than the individual, renders many incentive systems based on individual decision-making hapless and ineffective. (See: much of the US's "hearts and minds" efforts in the Vietnam War.) And yet each time I find they leave with their convictions happily unscarred by any encounter with reality
I noticed the same effect, though with semi-libertarians now charged with running the government themselves in 2003 when the US run Coalition Provisional Authority in Iraq set about making major structural reformations to the shattered country of Iraq. Regardless of the the differences between the USA where they had formulated their ideas and the circumstances they found in Iraq, the CPA's policies were right out of a Conservative/Libertarian utopia. Everything that could be privatized would be, tariffs and regulation were to be ripped up, and a 15% flat tax instituted. Now whilst other factors like an insurgency rudely interrupted this grand design, in case after case where the reforms had been lead by hired ideologues, they failed or barely functioned (In one notable case, the chief economic advisor to Iraqi proconsul Paul Bremer cheered on Iraqis post invasion theft of state owned bus's & taxis as a form of 'robin hood policy' as it would allow individuals to begin running their own private transport services)
Neither the success in Vietnam of collective approaches, or the failure in Iraq of libertarian ones mean that the theory is at fundamental fault. Instead it demonstrates the need for a context sensitive approach to governance that is fundamentally lacking in much of our political culture, but especially amongst libertarians.
The principles are not wrong, but by focusing on process and not outcome, Libertarians almost abandon their claim to be a political theory (which promotes certain goals like individual freedom) as opposed to being a economic or social theory which seeks structural organization without regard to outcome (for example theocratic theories which preference the organization of society above all other goals)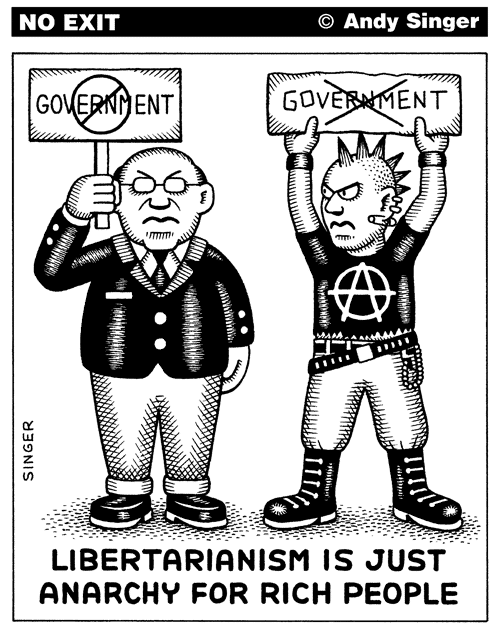 Libertarianism, especially the earlier thinkers or the more academic ones like Hayek seem to regularly acknowledge the importance of shifting process for outcome to benefit the individual, rather than ideological purity around certain forms of social organization. Take the right to property. Maximum Individual freedom need not logically be built upon a theory of private property, however through the historical process we have come to see that private ownership works as a basis for supporting individual freedom. Despite the pernicious effects it can sometimes have in society, and distorting effects in the market (ie inherited wealth) it is a fundamental basis for our conception of individual freedom. Libertarian philosophy incorporates this element because of its effect, whilst simultaneously rejecting other elements so as to maintain an apparent ideological clarity that ends up harming their claim to be a political philosophy of individual freedom, rather than just an economic theory. To be taken seriously as a political philosophy then political ends like freedom need to drive policy, instead of ideological insistence on certain processes -like private property- which may be aid that political end in other areas. If Libertarianism is more than just "anarchism for rich people" as the cartoon so mocks, then where the evidence demonstrates governments role in enhancing individual freedom (as in Education above), the that must drive the Political Philosophy, rather than simply falling back on the same processes that had increased individual freedom in other areas (such as tariffs & trade)
On the other side however Liberals, if anything may also be justly accused of a reflexive weakness in philosophy, consistently seeking to defend the status quo, rather than pushing for true liberal change as desired. From moral issues such as holding back on Gay Marriage or Euthanasia, to Economic (accepting monopolies such as the supermarkets or protectionism for agriculture) Liberals end up giving Libertarians a clear and coherent opportunity to attack the contradictions in such a theory of governance.
A marriage of Libertarianism and Liberals would be beneficial for both groups. For Libertarians to help shift its principles into the mainstream debate and away from just the field of economics, and for Liberals to use this new public voice to help steel themselves during times of conservative or leftist attack when maintaining the status quo is seen as an easier political path than engaging reform as needed. This does not mean that such philosophies will not differ in their response to challenges such as the economic crisis, but each could learn and mutually benefit from the others expanded role. Their end point is the same, individual freedom. The question is what pragmatic approach achieves that outcome, without causing more social harm than it seeks to benefit. Such an answer differs over time and context. Something that Liberals seem to have learnt if a little too well in their desire to be seen to do the right thing to keep their role in governance, and that Libertarians find almost offensive which works to keep them from having consequence via governance (or as in Iraq abysmal effects). One weak but involved, one strong but isolated. It's not a marriage made in heaven, but then what of mans hand ever is…
About Me:

I am a Senior Lecturer at the Strategic and Defence Studies, Australian National University, Canberra.

This is my official site to host academic publications and reviews of some of what I read. See the Book Reviews page for a full list, or scroll below for recent reviews.

Categories

Archives