Tag: Iraq
Christopher Hitchens on North Korea:
Here are the two most shattering facts about North Korea. First, when viewed by satellite photography at night, it is an area of unrelieved darkness. Barely a scintilla of light is visible even in the capital city. (See this famous photograph.) Second, a North Korean is on average six inches shorter than a South Korean. You may care to imagine how much surplus value has been wrung out of such a slave, and for how long, in order to feed and sustain the militarized crime family that completely owns both the country and its people.

But this is what proves Myers right. Unlike previous racist dictatorships, the North Korean one has actually succeeded in producing a sort of new species. Starving and stunted dwarves, living in the dark, kept in perpetual ignorance and fear, brainwashed into the hatred of others, regimented and coerced and inculcated with a death cult: This horror show is in our future, and is so ghastly that our own darling leaders dare not face it and can only peep through their fingers at what is coming.
While the Iraqi people have suffered due to the Bush Administrations botching of the invasion of Iraq, it is the people of the world who are still in abject dictatorship which have suffered the most. Designed as a giant confidence play to strike fear and the necessity of submission into dictators world wide, its controversy, bungling and cost have instead given ultimate re-assurance. Among the dead lies the idea of Humanitarian Interventions, a liberal idea of cautious military use to protect individuals, turned into a conservative rock tune of freedom and change by mid-afternoon.
While there were mistakes and setbacks in the 1990's (in particular Clinton's and other democratic leaders significant over-estimation of public unwillingness accept the loss of life towards such aims), progress had been made in establishing the idea as a viable policy option, with mechanisms and even discussion of standing forces to be dedicated towards the task rising. But that option has been fundamentally damaged, and the discussion returned to a taboo, both by liberals who now fear the underlying motives of any self-professed moral activity by government/the military and conservatives who either don't see any rewards (those ungrateful iraqis!) or now out of office have re-found their worry about military over-reach and the power of government to affect societal change.
None of this is to say that we should invade North Korea, or that they'd be free were it not for Bush (obviously not). But the option for policy makers has been removed from the table, and is awkwardly side-stepped when brought up in polite company or the halls of academia and foreign policy commentators. Even now, nearly 7 years on from Iraq, the wounds are still too raw for us to escape the inevitable comparison: If you advocate humanitarian invasion you're a Neo-Con with hidden imperialist motives, if you argue a better society can be brought about, few see anything but images of suicide bombs and IED's filling their imagination.
Appropriately implemented Humanitarian Intervention I would argue is a fundamental element of a peaceful, democratic world society. Implementing the norm of Sovereignty in 17th century Europe may have brought us freedom from religious wars (well largely) but we also need to ensure that governments can no longer hide behind the security of their own borders to avoid responsibility for their crimes against their citizens and humanity at large. Many countries make the shift to democracy on their own, but some stubborn few have to be blasted out. Until we can return to a discussion about even that possibility (again in the context of full discussion and needing an appropriate process such as UN authorization) then the oppressed, shrinking slaves of places like North Korea will continue to suffer alone and in the dark.
This is a rather unique use of the far-too-commonly invoked analogy of Hitler's Nazi Germany to modern times:
The [proposed WA] legislation would allow police to search people for weapons and drugs in areas such as Northbridge without having to prove grounds of suspicion.
Last night Liberal backbencher Peter Abetz spoke in support of the legislation and used the example of Hitler.
He said the dictator gained support because he provided people security in a time of anarchy.
"When it comes to the crunch, people prefer to be safe than to have freedom," he said
I didn't want to post this on the 11th, as it is important that every society set aside at least one day (Australia also has ANZAC day) where they pause to remember and honour those who served their country. Whether they spent only a few months on the home front, or years if not the last moments of their life in the horrors of battle, we owe it to them and to those in uniform today to do so. If anything this was made even more poignant by the senseless murder of 13 US servicemen by a man whose day job was to heal their wounds. This November 11th marks 64 years since WW2, a fight which is the most wrongly but commonly invoked analogy in western political dialogue and political thinking, and one we urgently need to move on from.
Comparing current events to The Nazification of Germany, the appeasement of Hitler, and of course the horror of the Holocaust is the nuclear option of public discourse in the west (especially the Anglo-sphere). But more than just odiously affecting our dialog, and dividing us internally, it affects our strategic thinking, putting us at risk externally. Since the turn of the century, there have been four major comparisons of current events with Hitler's Germany, all factually inaccurate, and all to the greater harm of the society.
1) Bush is like Hitler in pushing the Patriot Act in response to 9/11
Unlike the Reichstag fire, 9/11 most certainly wasn't an inside job. Terrorism was a very real and still present threat to the USA. Similar legislation to the Patriot Act was introduced in many other Western states around the world, though even that didn't prevent terrorist attacks in Madrid and London. Bush's acts were certainly invasive and the argument can be strongly made that it was an over-reaction, but it was a legitimate response to help protect his society. Something that has evidently worked in that there have not been any terrorist attacks inside the USA since 9/11. The left instantly delegitimised itself by making the analogy and destroyed it's capacity to sensibly contribute to and moderate the legislation.
Net effect = Less political influence, stronger public support for measures they rejected. Legislation is still in place.
2) Iraq/Iran is akain to Nazi Germany and ought not to be appeased.
While Bush was the victim of a false the Nazi analogy in early 2002, he was quick to invoke it against his enemies by late 2002/2003 as he lead the Coalition of the Willing to invade Iraq. Any and all who opposed, in the US, UK, Australia, and especially France and Germany were seen as akin to appeasing Hitler in their rejection of removing Saddam Hussein. Saddam was just as odious personally as Adolf, and terrorised Iraqi society, but Hitler in 1939 was a threat because of the strength of the German army. WMD or no WMD, Hussein was a contained threat. Strategically invading Iraq was a massive blunder, wasting blood and treasure for almost no comparative security benefit to the major coalition partners.
In this case, the desire to positively emulate WW2 (in playing Churchill and correctly foreseeing looming threats) was as, if not more damaging than the negative comparison, of our enemies to Hitler. This is the ultimate problem with the analogy to WW2. It can not be made positively, or negatively with good sense these days.
The more recent, though far more low key comparisons of Iran to Germany in 1939 have largely been dismissed because of the failure of the Iraqi comparison, but they refuse to go away. (Or perhaps it's due to the fact Iran has 1/68th of the army of the US). The rhetoric used against opponents of the war (or proposed action on Iran) is ugly, however the way the comparison has damaged and perverted the way the premier military nation in the world, and defender of the west conducts itself is inexcusable.
Net Effect = 4300 dead US soldiers in Iraq (with another 300 of allies, and 50-100'000 Iraqis), and about $1 Trillion spent, with more to come. The US has wasted its perceived unipolar moment, and is very restricted in the future conduct of its troops against threats such as Iran/North Korea, and the larger strategic game of China/Russia et all.
3) Climate Change Deniers are akain to Holocaust Deniers
This comparison has popped up in recent months, including by authors I previously respected. Even if the worst-case scenarios for Climate Change are true, they do not in any way mirror the insidious nature of the Holocaust. One deliberate, the other unexpected (with those responsible now attempting to solve it). One was industrialized and clinical, the other natural and unpredictable. One has happened, the other yet to, with a possibility of preventing the harm without actually stopping the problem.
Worse, given that there already are perceptions that the horror and trouble of Climate Change has been overplayed, the decision to deploy the most strident possible denunciation possible at this time has simply re-enforced the perception advocates were not driven by the science but other unrelated factors. The effect of such a claim has not persuaded anyone to change their view, and divided the two camps, re-enforcing the energy of denialists who see this as one-more-battle.This analogy unfortunately is going to be rolled out more and more in the future. It's bad rhetoric, bad history, and divides our society right at the time it needs to pull together to address this serious issue.
Net Effect = Nothing yet, but if (and perhaps when) Copenhagen fails to reach agreement, and cap & trade systems falter in the legislature in the UK, USA and Australia, it will be in part because supporters hyperbole managed to destroy the good will of many cautious supporters who would have given bipartisan support to this policy.
4) Obama introducing Healthcare is akain to the Nazification of Germany.
This is perhaps the most laughable of them all. The Nazi party despised the idea of social welfare, taking a strictly Social Darwinists approach to society. Hitler's Mein Kampf demonises charity and philanthropy as evils to be eliminated for a stronger Germany. Political fixes to maintain their domestic control were of course introduced, largely along the lines of what the Weimar Republic had pursued. The party may have been named the National Socialists, but actual Socialists and communists were amongst the chief enemies of the Nazis (which is why many conservatives in the west liked Hitler). These comparisons between Obamacare and Hitler have been made by media figures, congressmen, culminating in this odious picture at a recent event, which has fortunately been rejected by at least some in the Republican caucus.
Net Effect = As I noted a few weeks ago, the debate on Healthcare turned in Democrats favour in August when Conservatives were actually at their loudest in demonising the proposal at town halls. The legislation should hopefully pass (though will be a weak compromise), but the effect has not been limited to health care. The willingness to deploy the analogy in relation to healthcare has spread to other issues as well, damaging the political fabric of the US's democratic system. Good will has been utterly destroyed between the parties, the dialog debased, and the people cynically turned into service by people whose motives are more personal gain than anything else.
I was going to quote Churchill's great line that the people of the Balkan's had "more history than they could consume". But such is the effect of Churchill on our western psyche that its even easy to bring to mind quotes of him to say we shouldn't listen to him anymore! That we shouldn't memoralise and hero-worship the west's victory, or demonise modern enemies as like those he faced. As an avid reader of history I know no better source of personal development than reading history books, and yet every generation also deserves the chance to forget what has come before so it may remake and explore new potentials. If history's lessons were never breakable we would never had had the rise of the church, nor that of the nation-state, nor international organisations. Each of these changes occurred through the acts of a generation that was willing to deliberately ignore the lessons of the past and push for a new future
It's time to honour, and for the good of those involved, and those yet to come, return WW2 to the history books.
Picture by peterme used under a Creative Commons Licence
This morning brings with it news that Israel's Government is invoking Hitler in its cause to build in East Jerusalem
Israeli officials said on Wednesday Foreign Minister Avigdor Lieberman told Israeli ambassadors to circulate the 1941 shot in Berlin of the Nazi leader seated next to Haj Amin al-Husseini, the late mufti or top Muslim religious leader in Jerusalem.
One official said Lieberman, an ultranationalist, hoped the photo would "embarrass" Western countries into ceasing to demand that Israel halt the project on land owned by the mufti's family in a predominantly Arab neighborhood in East Jerusalem.
Some diplomats opposed Lieberman's move, arguing it could earn Israel stiffer world criticism for seeming to sidestep the wider conflict it faces with the Palestinians who want East Jerusalem as capital of a future state, another official said.
Asked why Lieberman issued the order, a spokesman said: "because it's important for the world to know the facts" and would not elaborate.
Winston Churchill, (a historian of great merit in his own right), once commented that the peoples of the Balkans 'produce more history than they can consume'. The same so easily applies to the Israel/Palestine conflict. To most people it would seem that putting up such a photo is a meaningless distraction, but to Israeli's, especially those aged 50 or so, born to parents who survived/witnessed the Holocaust then the history and historical importance of such a photo must resonate strongly. History we are often told by learned men must be learnt so as to prevent us repeating the mistakes of the past.
What they don't mention is that reading it often incites people to try and emulate the successes too, only in very different circumstances and with very different outcomes. No better example of this can be found than the invasion of Iraq in 2003. Led by a generation of men who also had parents in WW2 (only their memories are of great victory and liberation instead of brutal slaughter), George W Bush, a man with a bust of Winston Churchill on his desk, Tony Blair, living in Churchill's house and 500m from his war time bunker & memorial, and John Winston Howard set their countries in motion to liberate Iraq from Tyranny. Whilst Iraq had made zero antagonistic moves against the west in recent years (and even half-truthfully accepted UN weapons inspectors), those who disagreed with the war were instantly labeled appeasers, ala Chamberlain's 1938 blunder, with Saddam Hussein helpfully playing along in the role of mustachioed dictator. Here was the chance for these three to emulate their hero's and live up to the merits of the 'greatest generation' who had defeated the Nazi's and made great inroads against Communism. The weight of this history must have been heavy on these men from their positions of power to help the Iraqi people from what was one of the most brutal regimes in the 20th century.
Iraq of course had very little actual military might and was thoroughly defeated in less than a month. And far from the ease and praise of post-war Europe and Japan, Iraqi's quickly soured on the invasion and began to attack their supposed liberators. That the analogy of 1939 had failed in every single way possible in helping understand the circumstances western governments found themselves in at the start of 2003, has not stopped similar conservative forces today declaring that Iran is the new Nazi Germany and cannot be appeased. As Fareed Zakaria points out, (again bringing pesky current facts into the debate), far from being Germany 1939, Iran who has 1/68th of the US military, is more like Romania. Indeed some US Senators have even taken to calling their own country "about where Germany was before World War II". So long as the Baby Boomer Generation, born to fathers of the Second World War -with all its myriad and contradictory lessons- have power, analogies from that distant moment will continue to have an impact on our current political discussions. As Andrew Sullivan wisely noted in his 2007 essay for the Atlantic Magazine 'Goodbye to all that' the true radicalness of Obama for the USA is not in his policy (he is largely a cautious moderate) but rather that he is beyond the debates of the baby-boomers that have ripped America in-twain over the last 40 years. On race, gender, abortion and war Obama offered the US a chance to let go of its history and begin to build something new.
History it seems far from granting us wisdom seems time and again to be preventing us from seeing the world as it actually is, rather than in patterns of the past. One cause of this perhaps may be the staggering rise in popular histories amongst the reading public. Recently released, though yet to appear here in Australia, is Margaret MacMillan's Dangerous Games:
The Uses and Abuses of History which charts the many ways in which history is mishandled, distorted, politicized and mis-used by historians. After this great catalog of sins, the author, (a professional historian herself) poses this question:
MacMillan ends by asking whether we would be worse off not knowing any history at all…. "I think the answer would probably be yes," she writes, a sentence that is unlikely to serve as the historians' manifesto.
MacMillan argues that history's greatest tool is to provide us with humility. To learn how often wrong and misguided past generations were in their efforts, and perhaps how we can use it to begin to doubt the basis of our own certainty. But in a hyper-connected and digitalized world, if anything history will be more and more with us. Where pub disputes about a past war or politician were forgotten with the purchasing of the next round, now someone invariably whips out a internet connected phone and checks that holy source Wikipedia for an answer. As more and more key moments are captured on film (witness the outpouring at the 40 year anniversary of the Moon Landing), the more history will be brought into current media streams to supplement and fill in time. Former Prime Minister John Howard may for this reason soon get his wish that young students are better exposed to history, but whether this is equal to an education in history is a completely different matter. Whilst memories imparted from books and film are never quite as strong as those gathered whilst sitting at the knee of a parent, this upcoming generation will likely not be able to escape the onslaught of history in their everyday life. As an avid reader of history I know no better source of personal development than reading history books, and yet every generation also deserves the chance to forget what has come before so it may remake and explore new potentials. If history's lessons were never breakable we would never had had the rise of the church, nor that of the nation-state, nor international organisations. Each of these changes occurred through the acts of a generation that was willing to deliberately ignore the lessons of the past and push for a new future. Looking these days to places such as Israel/Palestine you can't help but feel the people there also desperately need an act of wide scale amnesia, if they are ever to find peace.
I'll be away in Melbourne for a few days so no blogging till mid-next week.
To pass the long cold hours I recommend:
Andrew Norton on John Stuart Mill's On Liberty at 150. Everyone talked of Darwin's anniversary, but Mill has had perhaps just as significant an impact and continues to do so.
Christopher Hitchens is surprisingly shy about his own case for once, but he advances a serious question: Did the Toppling of Saddam Hussein lead to recent events in Iran?
Seems to have some merit to me…
And finally, hopefully by now you have seen Utegate as told by lolcats. Well now there's a blog featuring the goings on of Australian politics all in lolcats. It may just be the future of blogging.
Have a good weekend.
Yesterday on July 1 2009, Iraq experienced the second of it's three major steps towards sovereignty.Today is rightly being held as a great victory for Barack Obama. But one person will also be smiling along side him today: Donald Rumsfeld.
The first major step towards a free Iraq occurred on June 28th 2004. It was intended for June 30 like this venture, but had to be moved two days earlier and presided over inside the Green Zone, such was the fear of insurgent attacks. On that day, Paul Bremer head consul of the Coalition Provisional Authority transferred authority to an all Iraqi, though appointed interim government under Prime Minister Iyad Allawi. On the right you can see President Bush's reaction to the news, in a note passed by Condolezza Rice
Over the next few years there was an uneasy dynamic. Iraqi's began voting in their own leaders, yet it was ostensibly US troops who provided the security, stability, and in some cases operated the basic infrastructure that kept the country running. It was certainly US money that turned the electricity back on, and re-bought Iraq a place in regional and world trade. But whilst all agree'd that the troops were needed, there were many great debates as to how to best use them. Indeed the now famous term "surge" is a misnomer. What was critical about the 2007 efforts was less the addition of a small number more of US troops, but the change in how all troops were to be used in the country. The US employed several strategies over the years of occupation:
As infamously acknowledged the first few days in Iraq after Saddam were chaotic and lawless. US troops viewed themselves as liberators and were not going to shoot 'free' Iraqi's for venting their frustration against the former buildings of their tormentor or helping themselves to it's resources (indeed so much copper wiring was stripped from the buildings of the Iraqi government that the price of copper in the region went down!). Eventually Jay Garner & the Neocons imagined Iraqi founding fathers never materialized and US dreams of a handover within the year were given up. US soldiers then got down to the business of providing security in the country. There was great differentiation during this period in how particular units approached that task. Some, especially special forces troops integrated heavily into the local population hoping to bring the locals on side and keep out the insurgents. Other commanders sought to keep their troops in the big bases as much as possible, reducing the 'footprint' of the troops and giving Iraqi's an impression of independence.
For most of the period of 2004 to 2006 the 'light footprint' approach won out. But curiously it was not actually the supported view of US Defence Secretary Donald Rumsfeld. Rumsfeld felt, (like many neocons, though they couldn't say it too loudly) that the presence of US troops in Iraq was denying the Iraqi's the necessary motivations to take over control of their own security and country. Drawing on a domestic analogy, Rumsfeld felt that US troops were keeping the new nation infantile and dependent. Bush recognised that US troops could not simply leave Iraq during this period (50-100 US soldiers were dying every month in this period). Resigned to keeping troops in Iraq, (When it comes to a desire to leave Iraq, the anti-war movement has nothing on the inner Bush Administrations unrelenting desire to get out of Iraq as quickly as possible) the troops were kept in their bases and sent out only occasionally on patrol in heavily armored and armed vehicles, or in large numbers so as to dissuade any and all from thoughts of attack.
In late 2006 when the death toll number was closer to 80-120 a month for US troops, the US adminstration decided on a new tactic. It had become convinced (in large part through the under appreciate efforts of Condolezza Rice) to move towards a "take, hold, rebuild" strategy. Following the US Congressional elections, Donald Rumsfeld was unceremoniously fired, taking with him his still earnest belief that the presence of US troops in Iraq was preventing Iraqis from 'stepping up' and taking control of their own country. The Surge brought in General Petraeus, and coincided with the USA's first real lucky break, the Sunni Awakening where Iraqi Tribal leaders began to switch sides and support the USA. This brought sudden and real gains in security, and with the new counter-insurgency doctrine in hand, the US troops moved back amongst the Iraqi population, driving insurgents and terrorists from the cities and bringing some security (For a good account check out David Kilcullen's new book Accidental Guerrilla. He was effectively Petraeus's n#2 in authoring the strategy, and yet as an academically trained Australian is able to offer a sober, informed judgement on the period's successes and mistakes).
President Obama famously opposed the war in Iraq, declaring that "I don't oppose all wars. And I know that in this crowd today, there is no shortage of patriots, or of patriotism. What I am opposed to is a dumb war" (The line about patriotism is noteworthy, -placed right in the middle of perhaps his key soundbite-, such was the fear all shared of being called unpatriotic or treasonous for not supporting the invasion of Iraq back in late 2002). When Obama took office in 2009, he made one of his first priorities for US troops to leave Iraq, beginning with a withdrawal from US cities, beginning on July 1. While Obama championed this move, it was actually codified under the dying days of the Bush Administration's State of Forces Agreement (SOFA) with Iraq. (So look out for any hypocritical/ignorant Republican attacks on Obama and the withdrawal).
After numerous revisions, Donald Rumsfeld's ideal is finally seeing it's implementation. US forces are pulling out of the major cities, with a full withdrawal scheduled (with some wiggle room for circumstances) by the end of 2011. Now we will finally be able to see if the NeoCon's assumptions about humanities eternal yearning to be free will lead Iraqi's to risk themselves for their country, or instead turn inwards and seek (as many did in 2003-2004) alternate sources of protection (tribes, gangs, mercenaries) whilst their country burns. Today there are 500'000 very Brave Iraqi Police and 250'000 equally brave Iraqi soldiers responsible for the security and safety of the population and Government. The differences in quality, equipment and training vary widely amongst these forces. Only some will ever meet the standards we in the west expect for our troops and police, but perhaps it will be enough. As David Kilcullen delights in pointing out, local troops not only dont have that stigma of occupation, but their very presence at home and off duty is it's own form of counter-insurgency at work. Whilst US troops need to be rotated regularly and require 5x their number to cook, communicate, co-ordinate and supply. It is burdensome, costly and slow, all the while an Iraqi policeman simply returns to his home each night, discouraging by his mere presence anti-government or insurgent forces, and knowing far far more about the local dynamics that are so crucial to ensuring law and order (advantages as basic as simply speaking the language which far far too few US soldiers ever learnt).
Already 33 people have been killed in the new post-US Iraq. There will sadly, be many, many more. But perhaps this now truly begins to mark the emergence of an Iraq, just like any other country with it's own issues and problems to deal with, rather than a major international conflict and distracting challenge for a superpower tasked with so much else in the world today. It also raises once again within me those conflicted feelings of how to understand and position myself on the question of the war as a whole. I have never wrestled with a decision as much as I did that to support or oppose the invasion of Iraq. I eventually came down on the negative, feeling that while Iraq probably had some old decrepit WMD (i was wrong), it wasn't enough of a threat, and worse would distract the US from the fight against terrorism and provide a massive properganda boost for the enemy.
And yet as I look at pictures of Iraqi's voting, I can't help but wonder if there isn't something deeply noble about the whole misguided adventure too. There is a universal desire for self-determination, which the tyrant Saddam Hussein brutally suppressed amongst his people for over 20 years. American boys and girls have given their lives in far too high a number, and American tax payers have paid (and will continue paying) a tremendous cost so that the people of Iraq might have that same freedom they enjoy. All the conspiracy theorists who made the anti-war movement so repellent have been proven frauds. The oil was not stolen, muslim's have been protected not slaughtered, the US isn't setting up a regional launchpad for taking over the region. All are lies. The US in it's shaggy dog style risked much in staggeringly naieve idealism, seeking to pass their great inheritance to all denied it around the world. It bounded into Iraq, smiled and then wondered why it was not able to simply bounce out with applause. Nation building however is perhaps the toughest task imaginable to mankind, one we continually fail at, and in this the Bush Administration was both the only group willing and the group least qualified to undertake such a mission. Those great voices for Humanitarian Intervention at the end of the 1990's almost universally disagreed with the effort, but what else can you call it?. Certainly such idea's have taken a heavy body blow, particularly on the left as domestic politics and anger over-rides long held principles. Should the war now be supported in hindsight ? I dont know. I still think it a mistake, but boy it's hard not to be taken by the enthusiasm and bravery shown by Iraqi's to make their country into a flowering democratic, modern nation deep within a region still beset by medieval views, and a history of harsh authoritarianism and crack downs. I wish them the greatest of luck. They will certainly need it.
Kevin Drum makes a similar comment I hear from lefties regularly:
Bush always struck me as less serious about democracy than his predecessors. To him it was a nice slogan — every American politician is in favor of democracy, after all — but anyone who's serious about democracy knows that it's not the kind of thing you can get overnight. It depends critically on education, on institutions, on culture, on overcoming corruption, on property rights, on the rule of law, and a dozen other things. None of these were things that Bush ever seemed to have the patience to bother dealing with.
Yet, notice the way Drum makes his case. Bush's seriousness is dictated by his patience and support for lots of significant little pieces of policy change. Exactly the type of approach he hopes and foresees the Obama administration taking:
The Obama wing of liberalism, conversely, seems to see democracy promotion as small ball: lots of hard slogging, lots of public diplomacy, and lots of minor initiatives that fly under the radar and don't produce dramatic moments to rally around.
Obviously it's worth treating with skepticism anyone who claims lots, but doesn't seem to do the hard work for it. Yet this approach somewhat fails because it assesses Bush as if a pragmatic liberal who spoke of promoting democracy but was lazy. Yet Bush's ideas for democracy are of a very different nature.
Take the issue of why there is terrorism at all. At the heart of the Bush Administrations efforts to change the Middle East was an acknowledgment that the US had failed the people of the Arab world. As Condoleezza Rice said in June 2005 in her own great speech in Cairo:
For 60 years, the United States pursued stability at the expense of democracy in the Middle East — and we achieved neither.
Now, we are taking a different course. We are supporting the democratic aspirations of all people.
It was not that Bush and Rice said terrorism was blowback for poor US policy, or a sign that they hated us for our freedom, but instead that the Arab world instead wanted to be more like us, and we had chosen realism-driven stability over their desire for democracy and freedom. Everyone wanted democracy, and if the US had done anything wrong, it was to fail to realise how strongly everyone else favoured it too. Democracy was not seen as a rational way to organise societies that helps moderate concerns over social justice and recognition in ways that curb extremism (as liberal advocates might put it), but it was what the people wanted and what the US had failed to deliver.
Following on from this, Bush therefore seemed not to see his job not as promoting and building democracy, but clearing out impediments to democracy. The classic case is Iraq. As far as he was concerned the key job of the US was to remove the dictator Saddam who had for too long held the people in fear and tyranny. Once he was removed, the people would naturally gravitate towards democratic forms of organisation. Remember Bush is not someone who see's democracy as merely an option for governance. As his 2002 National Security Strategy declared in its very first lines:
The great struggles of the twentieth century between liberty and totalitarianism ended with a
decisive victory for the forces of freedom—and a single sustainable model for national success:
freedom, democracy, and free enterprise.
Read that again. A "single sustainable model". There Is literally no alternative in the Bush world view. (And indeed does anyone really dispute that there is a compelling alternative?) As such Democracy was a natural process that all free people would embrace, the US did not have to spend it's time focusing on jobs like writing laws, building institutions or holding democracy classes. The Iraqi's would do this themselves.
Of course this is a misreading not of democracy's appeal (the Iraqis certainly wanted that), but of human society and governance. Bush was so used to stable successful countries that the difference he saw between the US and Iraq prior to the war amounted to the involvement of just one man: Saddam Hussein. Remove him and democracy would flower, without the US needing to be significantly involved. No other answer (such as an oil grab, incompetence or any other conspiracy) so clearly explains what happened following the end of the war, as that the Bush Administration thought that it's goals and the Iraqi people's goals were so aligned that once the bad guy was gone, the Iraqis would do the rest for themselves.
Democracy in short was not a goal to be built up slowly in the middle east, but the inevitable end to which the US had only to unlatch the gates & remove the blockages and it would flow over the region. Therefore to assess Bush's seriousness in supporting democracy, against his engagement with small bits of policy that build democratic institutions and cultures is to misread him. It's to analyse him as a realist. As the idealist he actually was, his invasion of Iraq is proof of his seriousness for democracy. Its just that there isn't always a link between seriousness and success or even good sense.
Right now most are walking away from the concept of democracy promotion. Bush's failure has tarred it's good name for both liberals and conservatives. But that was because of how he went about it, not the worth of the goal itself. That hasn't changed, and in some ways the Bushies are right that that failure to deliver on democracy really is crimp to the well being of the relation and positive views of the US. Just because we are criticizing the foolishness of the right wing Bush administration, doesn't mean liberals should adopt or say Realist ideas that such promotion is always impossible or always doomed to fail. Things that, given a resurgence in energy and confidence in a few years time we may regret saying. In piling on, we need to be careful to repeat that democracy promotion is still a good thing, even if it was taken in a bad direction by an administration that was at once cynical, incompetent and authoritarian, yet also strangely naive and idealist about ideas such as democracy. Only by accepting that, does the strange pattern of the Bush Administration begin to make sense.
'What We Could Learn from the Taliban on Governance'
It is not news that swaths of Afghanistan — particularly rural Pashtun areas in the south — now fall under the influence of the Taliban's "shadow government." What has been overlooked is why. Force certainly plays a part as the Taliban conquers new territory. But it's the insurgents' management structure — one that supplements rather than supplants existing tribal structures — that explains the Taliban's staying power. NATO and Kabul aren't being outfought in Helmand; they're being outgoverned.

If NATO and the Afghan government want to cement any future military gains in the south, they will have to offer an alternative to justice à la Taliban. The official answer is to build up the nascent Afghan court system — a near impossible long-term task unlikely to win hearts and minds anytime soon. Realistically, another option would work far better: accept informal local and tribal courts as reality and explore new avenues of interaction and, possibly, support. …Relying on traditional mediation under tribal or religious elders is hardly a radical idea; the U.S. military in Iraq has been doing it for years. In areas with strong tribal authority and sparse government representation, U.S. military units have been walking a tightrope — implicitly allowing tribal law while halting any excesses. In Afghanistan, the existence of local courts is a fait accompli — the only question is who will influence them, NATO or the Taliban?
– Patrick Devenny is an employee of the U.S. Department of Defense. The views expressed in this article are his own.
The line in Italics rather overplays the comfort of the US with such behaviour. Outside isolated Special Forces working on their own initiative, for most of the past 6 years tribal groups have been seen as hostile and contrary forces to be overcome in the development of a modern, democratic, capitalist Iraq. It was only in mid 2006 that the US began to include tribal groups as serious partners, and recognise the role these groups played in Iraqi society. The error for this process was not just the army, but came from the top down, where so strong was the desire to present the occupation as an easy task that Iraq was painted as a modern society, just caught under a brutal leaders control. Well it was, but even in cosmopolitan Baghdad many still identified with tribal groups, and out in the sticks the tribe was far far more important than any supposed border line on the map or identification on the passport.
But that aside, Devenny's point is a good one and gratifying to see expressed publicly. Not only is this a battle of that boring old cliche 'hearts and minds' but this is in fact the main battlefield for victory in Iraq and Afghanistan. Contrary to the views of many Iraq (and Afghanistan) were always winnable fights (and still should be). There was nothing automatic about the stumbles, violence and failings exhibited by the US in these countries. And whilst some on the left might urge adoption of such a view so as to help prevent further foolish Neo-Con adventures, it would be wise to remember such a view would do more to prevent and stop humanitarian interventions from occurring, than it would to stop wars which the right will always seek to sell as existential threats (and words dont even begin to explain the strangeness of seeing the proliferation of the term 'existential' amongst arch conservatives. But such are the small laughs of life).


The US will win in Iraq and Afghanistan when the average citizen decides that their best interests in food, shelter, security, services and economic opportunity lie with supporting the west. Until then, they will happily (and wisely) give their support to whoever can best provide (or intimidate away from an alternate choice). That is why so many in Iraq went from supporting the invasion in the early days of 2003 to taking up arms in 2004. They felt betrayed and abandoned by a occupying power which cared naught for governance or service provision (instead it assumed a combination of exiled leaders and a ultra-free market could resurrect a broken society). They were not pre-formed terrorists but often 'accidental guerrillas'
This isn't an easy choice morally or ideologically. Tribal groups will use measures we can't endorse, and will at times lead their people and countries away from the ideals of democracy and capitalism which we seek. But whilst these are our ideals, they can only be achieved once the country has stability and security. We have to have faith in the power of ideas that we can allow countries to wander from the path in search of the essentials until the inevitable rise of the middle class will demand public involvement in the political process and a higher standard of prosperity. Until then, we just have to do what we can to aid and supplement the systems the locals want, rather than imagining that we can replace then and leave. The alternative, never expressed but oft thought of just shooting until the system works can never work. For all the power of violence, no country has ever or at any time been ruled through it. This is the mirage of material power. Whilst the dominant view of power in International Relations, read carefully any of the major realist thinkers like Carr, Morgenthau or Waltz and you will find whispered agreement. Even tyrants like Stalin and Saddam can not bring a fist against every single individual who might object to their rule. Instead they use violence in a complex network of power that acts to legitimise their rule, provide clear lines of authority, and most importantly justify and persuade people that this rule was in their interest. In the end these forces work to convince the people themselves that this is the right way to run a country. Countries are socialised to tyranny, not brutalized. It is through governance, not guns that you bring a country under control, and good to see the US recognising that.
This blog is of course called chasing the norm, and the latest hot norm is of course to claim/disclaim the possibility of an alliance between Liberals and Libertarians, at least intellectually if not politically (Libertarians can only offer a few votes, but do represent a solid branch of the Reagan Coalition between Economic Liberals and Social Conservatives, which Liberals would love to rip out). This was a topic brought up in 2006 by Markos Moulitsas (of Daily Kos fame), urging Libertarians to vote Democrat, and has been raised on a number of major blogs recently see here here and here.
If this is marriage is to be one of more than just an American born alliance of political convenience to defeat the currently inept Republican party, then some changes in rhetoric and perception need to occur on both sides. That is to say, I believe most of the differences are political over policy based. They are tough to change, but not insurmountable.
The great difference between Liberals and Libertarianism is the question of Economics. Indeed many of them are proud to say Political Economy is the only issue upon which they vote. Whilst I have great sympathy for the basis of their arguments (leaving aside the fringe wing which want changes like returning to the Gold Standard), this economics and only economics issue is crippling to both the wider appeal of Liberatarianism, and its usefulness as a political ideology. Libertarians are able to be so dogmatic because they wish away so many of the associated issues, despite having a consistent ideological end point with Liberals.
For example Education: Whilst a fully rounded view of Freedom would desire Individuals to be educated to as high a standard as possible so as to make the most of their opportunities and freedoms, and allowing them to be as capable and prosperous individuals as possible (which offers compensatory economic benefits to the society). So on a view of freedom as individual flourishing you would support a universal education system. But on a view of freedom as purely an economic interaction, then government education imposes tax burdens on the individual and crowds out the market for private education providers, thus allowing the individual the freedom to choose their (or their children's) own level of education (if any), or go into business running a school. Now I doubt many Libertarians actually embrace the idea of vast sections of society choosing not to educate their kids (indeed Libertarianism is such a niche that it's reserved almost entirely for those who are quite well educated already). Thus & combined with their rhetorical focus almost purely on economic issues, what begins as a respectable duel legged stance of freedom in education (choosing ones education and/or choosing to open a private school) ends up being a economic pronged attack on government solely to allow a few more people to open private schools, whilst degrading the entire education system of the country.
There's also a problem in the economics here too, that whilst private schools reduce the burden on tax payers (around $4000 a student in Australia), the field of education simply doesn't offer the potential for a real working market. Whilst perhaps few choices are more important for an individual, our choices are actually very limited for what schools we will send our kids. Only in the largest of cities is there more than a handful of choices (indeed in some towns only one or even no school may be privately economically viable), and yet factors such as geography, closeness to work, the presence of school friends attending, the religion (and the church has been the biggest private educator for millenia) all serve to limit our choice dramatically. What should be a parent choosing the very best school possible for the education and well being of their child often ends up a decision of convenience between no more than 2-3 options without significant information ever likely to be available (you can test drive a ford, or return a broken hair dryer, but what if your kid doesnt like the school, or you dont like some of their attitudes which are hidden behind the glossy brochures).
From a economic driven view of freedom it makes sense for education to be private, but in outcome it ends up a petty and small effort to promote private education (or simply decry government wherever it is found) without actually encouraging significantly better individual choice for parents, or individual freedom for children by receiving a high quality education to enable them to fearlessly engage the world upon graduation.
This sidestepping of experience for a desire for ideological consistency (ie process over outcome) seems well encapsulated by this anecdote from Matt Steinglass:
I keep encountering American libertarians traveling in Vietnam, and each time I think they're going to be forced to revisit some of their core assumptions; they all like Vietnam because in comparison to other third-world countries there's no crime, the services actually function, governance works, and therefore it's a great place to do business and has a thriving and expanding capitalist economy. I imagine they will be forced to perceive the ways in which Vietnam's extremely group-oriented Confucian culture, where decisions are generally made at the level of the family or the work unit rather than the individual, renders many incentive systems based on individual decision-making hapless and ineffective. (See: much of the US's "hearts and minds" efforts in the Vietnam War.) And yet each time I find they leave with their convictions happily unscarred by any encounter with reality
I noticed the same effect, though with semi-libertarians now charged with running the government themselves in 2003 when the US run Coalition Provisional Authority in Iraq set about making major structural reformations to the shattered country of Iraq. Regardless of the the differences between the USA where they had formulated their ideas and the circumstances they found in Iraq, the CPA's policies were right out of a Conservative/Libertarian utopia. Everything that could be privatized would be, tariffs and regulation were to be ripped up, and a 15% flat tax instituted. Now whilst other factors like an insurgency rudely interrupted this grand design, in case after case where the reforms had been lead by hired ideologues, they failed or barely functioned (In one notable case, the chief economic advisor to Iraqi proconsul Paul Bremer cheered on Iraqis post invasion theft of state owned bus's & taxis as a form of 'robin hood policy' as it would allow individuals to begin running their own private transport services)
Neither the success in Vietnam of collective approaches, or the failure in Iraq of libertarian ones mean that the theory is at fundamental fault. Instead it demonstrates the need for a context sensitive approach to governance that is fundamentally lacking in much of our political culture, but especially amongst libertarians.
The principles are not wrong, but by focusing on process and not outcome, Libertarians almost abandon their claim to be a political theory (which promotes certain goals like individual freedom) as opposed to being a economic or social theory which seeks structural organization without regard to outcome (for example theocratic theories which preference the organization of society above all other goals)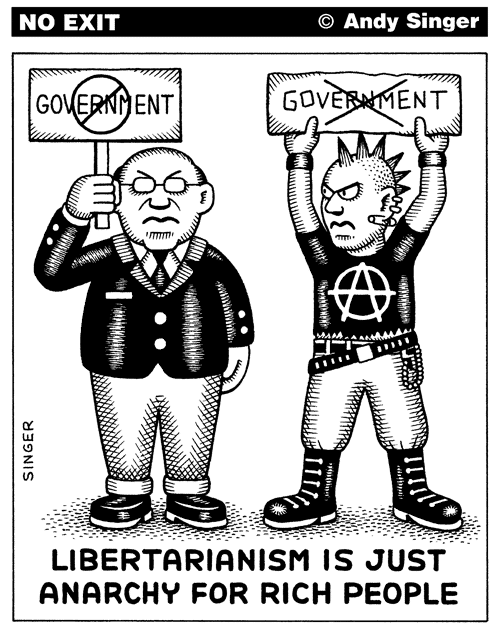 Libertarianism, especially the earlier thinkers or the more academic ones like Hayek seem to regularly acknowledge the importance of shifting process for outcome to benefit the individual, rather than ideological purity around certain forms of social organization. Take the right to property. Maximum Individual freedom need not logically be built upon a theory of private property, however through the historical process we have come to see that private ownership works as a basis for supporting individual freedom. Despite the pernicious effects it can sometimes have in society, and distorting effects in the market (ie inherited wealth) it is a fundamental basis for our conception of individual freedom. Libertarian philosophy incorporates this element because of its effect, whilst simultaneously rejecting other elements so as to maintain an apparent ideological clarity that ends up harming their claim to be a political philosophy of individual freedom, rather than just an economic theory. To be taken seriously as a political philosophy then political ends like freedom need to drive policy, instead of ideological insistence on certain processes -like private property- which may be aid that political end in other areas. If Libertarianism is more than just "anarchism for rich people" as the cartoon so mocks, then where the evidence demonstrates governments role in enhancing individual freedom (as in Education above), the that must drive the Political Philosophy, rather than simply falling back on the same processes that had increased individual freedom in other areas (such as tariffs & trade)
On the other side however Liberals, if anything may also be justly accused of a reflexive weakness in philosophy, consistently seeking to defend the status quo, rather than pushing for true liberal change as desired. From moral issues such as holding back on Gay Marriage or Euthanasia, to Economic (accepting monopolies such as the supermarkets or protectionism for agriculture) Liberals end up giving Libertarians a clear and coherent opportunity to attack the contradictions in such a theory of governance.
A marriage of Libertarianism and Liberals would be beneficial for both groups. For Libertarians to help shift its principles into the mainstream debate and away from just the field of economics, and for Liberals to use this new public voice to help steel themselves during times of conservative or leftist attack when maintaining the status quo is seen as an easier political path than engaging reform as needed. This does not mean that such philosophies will not differ in their response to challenges such as the economic crisis, but each could learn and mutually benefit from the others expanded role. Their end point is the same, individual freedom. The question is what pragmatic approach achieves that outcome, without causing more social harm than it seeks to benefit. Such an answer differs over time and context. Something that Liberals seem to have learnt if a little too well in their desire to be seen to do the right thing to keep their role in governance, and that Libertarians find almost offensive which works to keep them from having consequence via governance (or as in Iraq abysmal effects). One weak but involved, one strong but isolated. It's not a marriage made in heaven, but then what of mans hand ever is…
Ever since taking office, the Rudd government has sought to differentiate itself from the Howard legacy by strongly pushing for a greater NATO focus in Afghanistan, rather than Iraq (See here and here). This not only made tactical sense in that Afghanistan is the real front in the WOT these days, and helped offset any political tags of being weak because of a push to get out of Iraq. (Though it's noticeable that with incumbency Labor has become virtually unchallenged in foreign affairs, with regular critics like Greig Sheridan quickly changing their tone)
With that in mind, it's hence rather perplexing why the Rudd government has reacted decided not to help Obama's increase of 17'000 troops to Afghanistan.
Australia has welcomed the US decision to send 17,000 additional troops to southern Afghanistan.
Defence Minister Joel Fitzgibbon says it does not change Australia's role and he says there has been no request from Washington for extra Australian troops.
Mr Fitzgibbon also says he will not be offering to boost Australia's contribution in Afghanistan….He says he is quietly confident some undercommitted NATO countries are also about to do more.
"There is no doubt that additional troop numbers are critical to securing better progress in Afghanistan, but we also need to properly resource and marry the civil effort," he said.
"We would always consider such a request from our closest ally but there are a number of tests we would apply and of course we remain not inclined to do more while ever so many NATO countries remain under-committed."
Australia has about 1,000 soldiers currently deployed in Afghanistan.
Fitzgibbon's arguments however are contradictory: Last month he was arguing we would only send more troops if other NATO allies contributed; whilst now he is refusing on the grounds that he's "quietly confident" other nations will act; and therefore we are unnecessary.
Now, it certainly is true that no Australian presence can fundamentally change the situation in Afghanistan; indeed no troop presence of any number or nationality could (Obama shouldn't be wishing for any Surge 2.0 with these numbers), but they can help create a bit of space for political developments to occur, and more importantly for Australia, sending troops is a sign of good faith and authenticity in our dealings.
The choice not to send troops would be actually acceptable, except for one little fact: Rudd & Fitzgibbon just spent the last two years calling for more troops to be sent to Afghanistan!
With this refusal we look like little more than a cheerleader, unwilling to actually take the steps we regularly call on others to do so. This is damaging, not just in this single case of Afghanistan, but on whatever projects we are hoping to push in the future, for instance our power as a honest bargainer in the Anti-Nuclear Commission I mentioned a few days ago).
And with the caveat of the general small size of our force in mind, I'm also not sure why more troops couldn't be sent. Whilst there has been some disquiet in recent years about troop deployments in the army, it generally isn't considered overstretched. We have less than half the number of soldiers operating in the field as we did during the 1999 INTERFET mission to East Timor, at less than 5% of the total permanent ADF size being involved. Indeed Labor's own pull down from Iraq has reduced our force numbers there from 1500 to just over 120 in Iraq since the election, further reducing the burden. For more knowledgeable heads than mine, such as retired General Jim Molan (who played a major role in Iraq) have suggested that we could spare up to 5'000 more troops for Afghanistan. There are of course other reasons we could use troops, and any deployments are costly of course; but we have committed to this mission, the government has spent nearly 2 years calling for such an increase in troops and focus, and yet now we are turning down helping ?
The only other explanation could be a concern by Rudd that the public wont tolerate higher levels of casualties in Afghanistan, but it there is one real military lesson of the Bush years, it is that the left wing reticence to put soldiers in harms way (as Clinton was famous for) doesn't bear huge political costs. Bush's won in 2004 despite losing nearly 1500 troops come the election. Instead his numbers fell because people though the deaths were in vain, that he was not capable of commanding the troops, not because they are against the idea of soldiers doing what soldiers do and sometimes getting shot at. Neither Howard or Rudd suffered any noticeable hit to their popularity when Australian's have died in Iraq or Afghanistan, and whilst public opinion is split on Afghanistan, the results largely reflect dissatisfaction with the War On Terror in general, and the last comprehensive look was taken before the US election occurred.
If Rudd wants Australia to have a role larger than its material power allows, a large part of that will depend on living up to the image we have created for ourselves. More troops in Afghanistan now wont win the war, but it will please an incoming Obama Administration, make good on the governments constant calls for more focus on Afghanistan, and help pressure those critical NATO allies that they too ought to get involved. And Rudd's announcement of support needs to occur in the next few days, before the US calls and demands support.
Other than a physical limitation on troops available, there is no good argument for not sending troops. Rudd & Fitzgibbon should have seen this coming (Obama's been promising it for almost a year) and been ready, or at least had better excuses prepared. Not a good showing by a Labor Government keen to establish its international and Defence credentials.
Update: Rudd has missed his window. I always thought Howard had minimal competence in International Affairs, but he understood Alliance politics as well as anybody. Rudd still has some learning to do, esp if in the next fortnight we see a rolled out announcement of more troops to be deployed. (or the thought strikes perhaps he is playing hard to get, but that doesn't exactly work when your date is the newly celebrated prom king, and you don't quite fit the dress you claim to wear.)
Like most people, I am guilty of finding an answer and then looking for justifications when it comes to political decisions. This is simply human nature, and one we all strive to overcome (and having a 3 year PhD is about as good a shake to such instinctive behavior as I can imagine), yet one issue above all swayed my conscience left, right and indecisive: The decision to invade Iraq in 2003.
In the end, I came to oppose the war (and stupidly attended an anti-war protest, an action I now regret), deciding that whilst I thought Iraq had some WMD, they were not of a quality or threat that forced us to act, and given the circumstances the wests limited resources could be better used in other fields of battle. It was one of the longest, hardest decisions I ever took, and in 2007 I undertook a year long honours course to try and help figure out just why the war had gone so wrong. For I am a Liberal Hawk and according to a new essay by Alan Wolfe – One of a dying breed:
….for liberal hawkishness, safeguarding the individual against the evil designs of tyrants all too often comes into conflict with the desire of nations to manage their own future. One may argue that tyrants cannot possibly represent the will of their people because they do not allow their people to express their will. But this is not how most people in most societies around the world see the issue. For them, occupation is occupation, however benign it may appear to the occupiers. One lesson we ought to learn from Iraq, therefore, is that our anti-totalitarianism is their neo-colonialism. Removing a tyrant comes closer to being an expression of humanitarian ideals than extracting a resource, but the techniques used to achieve the former bear a striking resemblance to those that once made the latter ubiquitous throughout the underdeveloped world: troops speaking a different language who from time to time commit collateral damage against innocent by-standers; a blind eye to bribery and corruption; the imposition of one way of life upon another without regard to the niceties of Tocquevillean custom that the occupier otherwise values.
So wither Liberal Interventionism ? On the Liberal/Int. Law side Matthew Yglesias argues that Iraq was never a liberal action to start from (and by defying the rule of law never could be) whilst Andrew Sullivan burned already on this subject (though admirably reformed) puts the conservative case that such debate in the abstract is meaningless.
But there's something disquieting and misleading in Wolfes efforts at a counter-factual :
Because a liberal intervention in Iraq would have been more likely to achieve its objectives, it would have aroused far more cries of unwanted interference. To be sure, people's homes might have had electricity sooner and more reliably, a daily trip to work may not have been a near-death experience, and Iraqis surely would have had the best professionals rather than incompetent political hacks advising them on how to build schools and create an electrical grid. Yet no doubt many Iraqis would have hated us all the more, for not only would we be occupying their country, we would be demonstrating on a day-to-day basis how superior our way of life is to theirs. The very act of liberating a people reminds them that they were unable to free themselves.
Whilst such pursuits may be the pursuit of the intellectual class, does anyone really think that people who flock to murders and thieves like Muqtada al-Sadr, Hamas, or the Iraqi criminal world to secure basic services and security would really turn their back on the US for delivering actual peace and security ?
The invasion of Iraq has seriously damaged the idea of Liberal Internationalism, but not because it broke the law, or because the basic ideas are wrong: But because it didn't work. If it worked the idea would have continued merit. If it worked we would still be embracing the idea. If it worked, we would not be going through soul searching essays after 6 years.
The problem with Iraq was not a lack of plans (as conventional wisdom holds) but a bad plan, as Wolfe lets on "Suppose, as a counterfactual, that…this president, realizing that free market ideology may not necessarily be the best way to jump-start a devastated economy in a war zone, had instituted a planning process that resulted in a revitalized Iraqi energy sector, helping to defray the costs of reconstruction".
Culture and Identity are of course vital in the make up of the societies we live in, but we are but Darwin's progeny. If we cant survive, cant eat well and sleep in safety then no culture or identity will sustain solidarity otherwise. This is why the push to drive Liberalism internationally is so important. If we dont help out, who will. We just need to do it right. Sometimes those who view politics want to turn every event, even those as tumultuous and eventful as the invasion of Iraq into great historical truths. And sometimes simply doing it right is all that is needed. After almost 6 years wrangling over this question, and wondering how I should answer the question, that seems to me to be the wisest answer out there. Do it right, or dont bother. Anything else is pointless.
In 2007 I wrote an honours thesis on Iraq and Post War Reconstruction. Trying to work out why it had all gone wrong, I came to the conclusion that the idealistic vision for Iraq held by the NeoCons and Bush Administration was significantly to blame in restricting typical post-war reconstruction and stabilization. The effect I, and an increasing number of voices came to argue was that because the Iraqi Government was seen as American/corrupt/incompetent, the people naturally turned to other groups to provide security and basic services. These were the sectarian religious groups (such as Sadr City in Baghdad ruled by the rebel Shitte cleric Muqtada al-Sadr), tribal groups (up to 80% of Iraqi's, including cosmopolitan Baghdad types identified with a tribe prior to the war), and of course, criminal elements (including foreign terrorists and local insurgents) who forced their way into power over the people.
In short, government, and the idea of Iraq was in such disrepute, people had looked to other sources of authority to survive. But, whether the horse or the cart, as Iraq has stabilised we have seen this (Via Matthew Yglesias) positive change in the people's outlook:

Thus with faith beginning to be restored IN government, this should come as little surprise (though still quite pleasing)
"Initial results from Saturday's landmark voting are not expected for days. But reports by Iraqi media and interviews by The Associated Press suggest candidates backing Prime Minister Nouri al-Maliki had strong showings in the crucial Shiite heartland in southern Iraq.
If the indications prove true, it would strengthen al-Maliki's hand ahead of national elections later this year and reflect a shift away from the more religious parties dominating the country".
Iraq will always be a "false" country, in the way that Australia or Britain never have to worry. The people's history, culture and lineage form orders that run far above, and far more powerfully than the lines in the sand drawn up to mark Iraq's official borders by the British and French as they carved up post WW1 Middle East. This is one of the most potent and dangerous by-products of the territorial nation state. Its demand for certainty in geography means an often arbitrary divide of people with sudden new demands for a new identity as "Iraqi" expected to immediately and seamlessly replace the old. Saddam may have been an actual Iraqi as leader (in that he is almost unique), but as soon as his thugocracy fell, so did people's conception of themselves as Iraqis.
This is not the whole answer. Government will have to keep delivering services and security in order to maintain the trust of the people, and even if 95% of iraqi's tell pollsters they are Iraqi's first and foremost, it wont mean they always serve those interests above others. Such a change wont come officially, but in a generation like mental shift towards the nation and its place. But it's great to see the country moving in that direction if it is to ever realise the dreams of the NeoCons as a free and democratic society.
Next time: I want to return to this theme, and link in with one of my earlier posts on the role of government to show just why Liberals should continue to defend the importance of government for the well being of society (and why so called "Conservatives" should know better)
Update: Turnout looks about 51%, with problems for the millions of dispossessed Iraqis and only slightly improved turnout for Sunni's (who abstained from the 2005 elections in protest). The Musings on Iraq Blog has some interesting data comparing this election to the 2005 results. Iraqi's it seems are still apathetic about the role of politics to improve their lives. Again Bush's misguided anti-government ideology must bear some responsibility. So determined were they for a minimalist government that their first few efforts broke the fundamental trust needed between a people and its government. That it would provide security, services and supplies. Bush & Co thought either the market would solve it, or Iraqi's would simply return to their desks and make their own government, leaving the US free to do a victory lap and leave.
Still, it seems Iraq is now finally on the right track. All the best of luck to them.
About Me:

I am a Senior Lecturer at the Strategic and Defence Studies, Australian National University, Canberra.

This is my official site to host academic publications and reviews of some of what I read. See the Book Reviews page for a full list, or scroll below for recent reviews.

Categories

Archives