Tag: Freedom
In (yet another) back down, the Rudd Government recently abandoned its call for a bill of rights. Instead it is introducing a 'Human Rights test' for all legislation, leading to much rejoicing by many liberal and conservative Australians (which I'm labeling here right wing, with left wing liberals tending to support Rudd's -original- push for a Bill of Rights as I do). Yet their joy is somewhat surprising given that the Australian Right wing tend to define themselves (rhetorically at least) by their desire to restrict the reach & power of government and encourage individual freedom. Which is exactly what a bill of rights is designed to do, hence its position at the heart of the US constitution, the most liberal document in history.
Andrew Norton helpfully tries to explain this apparent contradiction in a good post over at his blog:
In a democratic system, classical liberals will tend to be more sceptical than social democrats and the median voter of actual and proposed regulation by the state. But I don't think this is inconsistent with believing that classical liberal freedoms should be achieved within the persuasion-based, evolutionary and open democratic system. Even within a pro-freedom perspective individual rights and freedoms can conflict – let alone all the conflicts with other values that people hold – and there is little reason to believe (as many opponents of bills of rights have argued) that courts will do a better job of deciding on the trade-offs than democratic politics.
…
a distinction can be drawn between an in-principle opposition to constitutionalising some rights and a tactical judgment that the bill of rights we would end up with would not support the classical liberal conception of individual freedom. I think this does help explain the lack of enthusiasm for bills of rights among classical liberals, even where they might support constitutionalising a limited list of rights or freedoms. Aided by the various UN treaties, the concept of 'human rights' has expanded way beyond what classical liberals have ever supported, to make them the basis for big rather than small government.
While the arguments about risking giving too much power to the courts are valid, and one should always be skeptical if modern politicians can reach the wisdom of political philosophers such as Jefferson & Adam's, Norton's comments still seem to me somewhat partisan. His main concern seems the content of a Rudd/Gillard(or Abbott?) introduced Bill of Rights, rather than the concept as such. That it is, had a classical liberal Prime Minister introduced a bill of rights, I expect he would be significantly more inclined to support it. Which leaves me wondering why none on the right are proposing to write their own Bill of Rights?
There's two good reasons they should: First, if there was a right wing version on offer, the debate would shift from the rhetoric of angry partisans (like this) towards debating which principles and the specifics. A debate about how to code a protection of free speech, or whether the government can compulsory acquire private land would be a useful debate.
Second, if those on the right support the concept (as opposed to their concerns over Rudd's specific version) then now is the time to propose an alternative. The campaign for a Coalition government to implement economic liberalism didn't just spring from nowhere in 1996, but was pushed & argued over throughout the 1980's and maintained until the time was right (whilst critically giving support to the ALP Government when it agreed with this approach). With Joe Hockey the likely candidate to take over the Liberal Party once they lose the upcoming election, liberals have a good chance to gain a leader who will at least listen to their views. Assuming the ALP stay in office for another two terms, by 2016 a Coalition Government could win office and pledge to implement a Bill of Rights which has been around for 5-6 years in public debate (removing the fear factor) whilst adhering to a strict 'negative' set of limits on government/society, rather than the more left wing desirer for positive rights to food/shelter/support etc.
I believe a Bill of Rights has a fundamental worth, that will unite people of all political philosophies across the left and right. Guaranteeing free speech, restrictions on discrimination, and basic rights of people who fall under the watch of the security apparatus of the state would help ensure that the 'democracy of manners' which rules Australia does so within confines that do not trample over the individual. For those of a liberal persuasion, both the Howard and Rudd governments have infringed individual freedom and shown little concern about doing so, in economic, social and security area's. There are legitimate concerns about increasing court influence to deal with, however the High Court has already involved itself in these issues (such as ABC v Lange 1997 on free speech). A carefully constructed negative set of rights could infact help clarify what the public want, rather than allowing the much freer interpretation available today where lawyers and judges can draw on all constitutional and legislative documents.
Having an alternate proposal (while a lot of work) would increase the quality of the debate, let those on the right set the terms of what a bill of right should be (helping dispatch poor/unworkable ideas such as a right to an income) and far more than any comparison with UN treaties, let Australians debate and define the basic freedoms we as a people insist on for a good society. Given the move to presidential prime ministers, increasingly invasive technology options for the government and centralising federalism, sitting back and hoping all will be ok is not a sensible option.
Via Andrew Sullivan Have Tea Parties and Stimulus broken the bond between liberals and libertarians?
Reason.Com's Matt Welch: Speaking only for myself, I don't see libertarianism moving rightward, I see rightward moving libertarian. Which is to be expected, what with the whole not-having-power thing (as Kilgore points out, the Democrats' wilderness years included such incongruities as Markos Moulitsas penning "libertarian Democrat" manifestos)….What I do care about, regardless of who's president, is human freedom and prosperity. And I strongly and consistently suspect that when the government accumulates more power, I and everyone else (except those wielding it) have less of which I seek. Republicans diss libertarians when they're in power, and Democrats diss libertarians when they're in power. Their changing attitudes toward our little (albeit growing) tribe is mildly interesting, but it's about as newsworthy (and painful) as a dog biting a chew toy.
Of course it doesn't seem as if Liberals and Libertarians ever had a real world political alliance (as economic liberals and social conservatives had), but it is unfortunate if major participants seem to be giving up on an idea of closer and more empathetic discussions between those of these two philosophies, given the significant mutual benefit that is possible and the over-riding consensus on the end outcome: Expanding Freedom.
Read the full article »
Very pleasing breaking news:
Commonwealth to allow gay ceremonies: Corbell
Simon Corbell says gay couples will still be able to have legally binding ceremonies under the amendments.
ACT Attorney-General Simon Corbell says the Territory has now reached a compromise with the Commonwealth.
He says gay couples will still be able to hold a legally binding ceremony in front of a civil partnership notary.
But now they will also have to notify the registrar-general of their intention to hold a ceremony.
Assuming endorsement from the registrar-general is automatic, this is a great step for civil liberties in Australia. If we are to be a society which is designed for the promotion of general prosperity and liberty, then this is as critical an issue as any step in recent years. For much of the last 30 years the liberal/libertarian movement has focused its concern for expanding liberty purely within the economic sphere. Social liberties were seen as too hard, or many proclaimed supporters of freedom were distinctly uncomfortable with its actual expansion (such as the many conservatives who regularly invoke the cause of freedom, especially in the US, whilst having no time for any social liberalisation in areas such as Marriage, Euthanasia and Drugs). Likewise one of my greatest differences with Libertarians is their almost sole economic focus, as such I'd be surprised if this decision gets noticed on the libertarian blog Cattlaxyfiles (at least now that Jason Soon has left)
Though this is only significant for at most a thousand Australians (ie Homosexual couples in the ACT wishing to marry), it does allows the idea to become a norm. A social practice, with its effects, pro and con measured and noticed. And as with the US, when the ground doesn't open up to destroy the modern Gomorrah of Canberra, other states may be willing to take the risk, along with the Federal Government noting the general public acceptance. It surely won't change under Rudd, but it's now a real possibility for a Gillard Administration.
This is also significant as a signal to those who hold liberal views on matters both economic and social that the ALP is still receptive to such ideas. Rudd disappointed a lot of liberals with his refusal to end parallel import restrictions, so this is a good change to reassure them.
Congratulations federally to Kevin Rudd, Robert McClelland and Gary Humphries (and probably Kate Lundy), and locally to Andrew Barr, Simon Corbell and Jon Stanhope. You have all done your bit for a significant expansion of civil liberty in Australia. That's something to be proud of, whatever the critics say.
A wire service report from earlier today

Protesters blockade Parliament House
From: AAP November 23, 2009 12:34PM
CLIMATE change protesters have blockaded Parliament House in Canberra.

Security guards have shut the front entrance of the parliament and about a dozen police are at the scene.

Police are blocking the media from speaking with the 200 protesters who are a mix of the elderly, teenagers and mums and dads.

The demonstrators, in a statement, said they came from across Australia and are calling on Prime Minister Kevin Rudd to secure a strong, legally binding treaty at the upcoming UN Copenhagen negotiations.
The Sydney Morning Herald is running the same story. I'll update the post if the story changes, early reports can be wrong or simply mis-communications.
Obviously the right to protest doesn't extend to blockades of the parliament, but surely the police can't stop the media talking to the people. While its not too hard to have a protest at Parliament House (I've helped with one against the Net Filter), I've heard of several groups having issues with the police around parliament house, from the home birth mums to the crestfallen Republicans. Nothing major, but given the importance and specific design of the lawn across the road from Parliament, it would be a great loss if in the name of security or simply overzealousness we lost our freedom to protest outside our parliaments, as seems to have already happened in Tasmania with the arrest of Peter Cundall.
Update: If anything the media has re-enforced the story:
The Australian: "Police have formed a human barricade and are taking protesters out of the sight of the media. The Australian Federal Police have at least one video cameraman filming the protest. In Britain, police have used similar methods to gather intelligence on many left wing organisations."
SMH.com.au: "Police dragged remaining protesters to an area under parliament, out of sight of reporters and photographers. An Australian Federal Police cameraman filmed the demonstrators. Some police officers involved were not wearing either name tags or identification numbers. One officer, when asked, said his was on his jacket which he had taken off."
Obviously the decision to race the doors is unacceptable, and I think the police right to break up such a protest as soon as possible. What's less forgivable is the effort to censor the protesters from the media, and prevent legitimate coverage of the event. No security risk was presented through the media interviewing such people, it was just damage control in the name of their bosses. That's not a good enough excuse for curtailing freedom of speech and of the press in this country.
Yesterday on July 1 2009, Iraq experienced the second of it's three major steps towards sovereignty.Today is rightly being held as a great victory for Barack Obama. But one person will also be smiling along side him today: Donald Rumsfeld.
The first major step towards a free Iraq occurred on June 28th 2004. It was intended for June 30 like this venture, but had to be moved two days earlier and presided over inside the Green Zone, such was the fear of insurgent attacks. On that day, Paul Bremer head consul of the Coalition Provisional Authority transferred authority to an all Iraqi, though appointed interim government under Prime Minister Iyad Allawi. On the right you can see President Bush's reaction to the news, in a note passed by Condolezza Rice
Over the next few years there was an uneasy dynamic. Iraqi's began voting in their own leaders, yet it was ostensibly US troops who provided the security, stability, and in some cases operated the basic infrastructure that kept the country running. It was certainly US money that turned the electricity back on, and re-bought Iraq a place in regional and world trade. But whilst all agree'd that the troops were needed, there were many great debates as to how to best use them. Indeed the now famous term "surge" is a misnomer. What was critical about the 2007 efforts was less the addition of a small number more of US troops, but the change in how all troops were to be used in the country. The US employed several strategies over the years of occupation:
As infamously acknowledged the first few days in Iraq after Saddam were chaotic and lawless. US troops viewed themselves as liberators and were not going to shoot 'free' Iraqi's for venting their frustration against the former buildings of their tormentor or helping themselves to it's resources (indeed so much copper wiring was stripped from the buildings of the Iraqi government that the price of copper in the region went down!). Eventually Jay Garner & the Neocons imagined Iraqi founding fathers never materialized and US dreams of a handover within the year were given up. US soldiers then got down to the business of providing security in the country. There was great differentiation during this period in how particular units approached that task. Some, especially special forces troops integrated heavily into the local population hoping to bring the locals on side and keep out the insurgents. Other commanders sought to keep their troops in the big bases as much as possible, reducing the 'footprint' of the troops and giving Iraqi's an impression of independence.
For most of the period of 2004 to 2006 the 'light footprint' approach won out. But curiously it was not actually the supported view of US Defence Secretary Donald Rumsfeld. Rumsfeld felt, (like many neocons, though they couldn't say it too loudly) that the presence of US troops in Iraq was denying the Iraqi's the necessary motivations to take over control of their own security and country. Drawing on a domestic analogy, Rumsfeld felt that US troops were keeping the new nation infantile and dependent. Bush recognised that US troops could not simply leave Iraq during this period (50-100 US soldiers were dying every month in this period). Resigned to keeping troops in Iraq, (When it comes to a desire to leave Iraq, the anti-war movement has nothing on the inner Bush Administrations unrelenting desire to get out of Iraq as quickly as possible) the troops were kept in their bases and sent out only occasionally on patrol in heavily armored and armed vehicles, or in large numbers so as to dissuade any and all from thoughts of attack.
In late 2006 when the death toll number was closer to 80-120 a month for US troops, the US adminstration decided on a new tactic. It had become convinced (in large part through the under appreciate efforts of Condolezza Rice) to move towards a "take, hold, rebuild" strategy. Following the US Congressional elections, Donald Rumsfeld was unceremoniously fired, taking with him his still earnest belief that the presence of US troops in Iraq was preventing Iraqis from 'stepping up' and taking control of their own country. The Surge brought in General Petraeus, and coincided with the USA's first real lucky break, the Sunni Awakening where Iraqi Tribal leaders began to switch sides and support the USA. This brought sudden and real gains in security, and with the new counter-insurgency doctrine in hand, the US troops moved back amongst the Iraqi population, driving insurgents and terrorists from the cities and bringing some security (For a good account check out David Kilcullen's new book Accidental Guerrilla. He was effectively Petraeus's n#2 in authoring the strategy, and yet as an academically trained Australian is able to offer a sober, informed judgement on the period's successes and mistakes).
President Obama famously opposed the war in Iraq, declaring that "I don't oppose all wars. And I know that in this crowd today, there is no shortage of patriots, or of patriotism. What I am opposed to is a dumb war" (The line about patriotism is noteworthy, -placed right in the middle of perhaps his key soundbite-, such was the fear all shared of being called unpatriotic or treasonous for not supporting the invasion of Iraq back in late 2002). When Obama took office in 2009, he made one of his first priorities for US troops to leave Iraq, beginning with a withdrawal from US cities, beginning on July 1. While Obama championed this move, it was actually codified under the dying days of the Bush Administration's State of Forces Agreement (SOFA) with Iraq. (So look out for any hypocritical/ignorant Republican attacks on Obama and the withdrawal).
After numerous revisions, Donald Rumsfeld's ideal is finally seeing it's implementation. US forces are pulling out of the major cities, with a full withdrawal scheduled (with some wiggle room for circumstances) by the end of 2011. Now we will finally be able to see if the NeoCon's assumptions about humanities eternal yearning to be free will lead Iraqi's to risk themselves for their country, or instead turn inwards and seek (as many did in 2003-2004) alternate sources of protection (tribes, gangs, mercenaries) whilst their country burns. Today there are 500'000 very Brave Iraqi Police and 250'000 equally brave Iraqi soldiers responsible for the security and safety of the population and Government. The differences in quality, equipment and training vary widely amongst these forces. Only some will ever meet the standards we in the west expect for our troops and police, but perhaps it will be enough. As David Kilcullen delights in pointing out, local troops not only dont have that stigma of occupation, but their very presence at home and off duty is it's own form of counter-insurgency at work. Whilst US troops need to be rotated regularly and require 5x their number to cook, communicate, co-ordinate and supply. It is burdensome, costly and slow, all the while an Iraqi policeman simply returns to his home each night, discouraging by his mere presence anti-government or insurgent forces, and knowing far far more about the local dynamics that are so crucial to ensuring law and order (advantages as basic as simply speaking the language which far far too few US soldiers ever learnt).
Already 33 people have been killed in the new post-US Iraq. There will sadly, be many, many more. But perhaps this now truly begins to mark the emergence of an Iraq, just like any other country with it's own issues and problems to deal with, rather than a major international conflict and distracting challenge for a superpower tasked with so much else in the world today. It also raises once again within me those conflicted feelings of how to understand and position myself on the question of the war as a whole. I have never wrestled with a decision as much as I did that to support or oppose the invasion of Iraq. I eventually came down on the negative, feeling that while Iraq probably had some old decrepit WMD (i was wrong), it wasn't enough of a threat, and worse would distract the US from the fight against terrorism and provide a massive properganda boost for the enemy.
And yet as I look at pictures of Iraqi's voting, I can't help but wonder if there isn't something deeply noble about the whole misguided adventure too. There is a universal desire for self-determination, which the tyrant Saddam Hussein brutally suppressed amongst his people for over 20 years. American boys and girls have given their lives in far too high a number, and American tax payers have paid (and will continue paying) a tremendous cost so that the people of Iraq might have that same freedom they enjoy. All the conspiracy theorists who made the anti-war movement so repellent have been proven frauds. The oil was not stolen, muslim's have been protected not slaughtered, the US isn't setting up a regional launchpad for taking over the region. All are lies. The US in it's shaggy dog style risked much in staggeringly naieve idealism, seeking to pass their great inheritance to all denied it around the world. It bounded into Iraq, smiled and then wondered why it was not able to simply bounce out with applause. Nation building however is perhaps the toughest task imaginable to mankind, one we continually fail at, and in this the Bush Administration was both the only group willing and the group least qualified to undertake such a mission. Those great voices for Humanitarian Intervention at the end of the 1990's almost universally disagreed with the effort, but what else can you call it?. Certainly such idea's have taken a heavy body blow, particularly on the left as domestic politics and anger over-rides long held principles. Should the war now be supported in hindsight ? I dont know. I still think it a mistake, but boy it's hard not to be taken by the enthusiasm and bravery shown by Iraqi's to make their country into a flowering democratic, modern nation deep within a region still beset by medieval views, and a history of harsh authoritarianism and crack downs. I wish them the greatest of luck. They will certainly need it.
This morning brings with it the news that Maine is now the 5th state of the American Union to grant full equality regardless of sexual orientation, and in a legislatively endorsed manner too (joining Vermont; with Connecticut, Iowa and Massachusetts granting it through court decisions).

Maine Gov. John Baldacci, a Democrat, signed LD 1020 shortly after the legislation passed the Senate with a 21-13 vote — a margin not large enough to override a veto.

"In the past, I opposed gay marriage while supporting the idea of civil unions," Baldacci said in a statement read in his office. "I have come to believe that this is a question of fairness and of equal protection under the law, and that a civil union is not equal to civil marriage."
Good for him. Now, when will Australia (you know that supposedly modern, secular, tolerant, 'social laboratory' land down under – unlike the god fearing Yanks) get around to removing such discrimination from its laws.
In 2006 the Howard Government blocked the ACT's 'Civil Unions Act' and the Rudd government quickly re-endorsed the move upon taking office in 2007 (though local residents and political watchers put that down as much to Stanhopes incompetence as Rudd's conservatism). Either way, it's still a far cry from actual equality of marriage as being between any two consenting adults. Rudd deserves some praise for his efforts to removal of discrimination against de facto gay couples, putting them almost on par with married heterosexual couples, but he should sniff the way the political winds are blowing and go for it in the next election. Whilst the upcoming election will be tough, it is also a pretty safe bet for Labor, and as such a perfect vehicle to introduce into the debate and gain a mandate to implement post-election a number of other progressive issues. Likewise, given the ACT Labor governments re-election in late 2008, the public debate would be well served by another push by Stanhope, and perhaps his (openly gay) young minister Andrew Barr to push the Federal government on the issue again. Though not on Civil Unions this time, but full marriage. Nothing else is worthy of a great nation like this.
Image of newly married couple from Flickr user sfbart used under a creative commons licence
I've blogged before on my disagreements with Classical Liberal/Libertarian types. Whilst we seem to have read the same great texts, and decided such ideals and principles were for us, most modern ideologues who claim the labels Classical Liberal or Libertarian seem to have but one solution to every single policy option: Create another Market. Yet much as markets are rightly praised as a necessary basis for a free people, I don't see why what is essentially a means, should have become the default ends for every single policy debate. Take a recent debate on Andrew Norton's site as he works through the implications of his political survey:
Commenter Robert suggests, regarding my post suggesting Milton Friedman influenced views in favour of competitive curricula on government not delivering school education, that

It could just be that better read classical liberals tend to favour freedom in education (and perhaps freedom in other areas) and it's not Friedman specific. Is it worth testing whether the effect from Friedman is greater than having read other liberal thinkers?

I'm sorry to report it, as I like and admire Friedman rather than just admire Hayek, but a test comparing Friedman readers and Hayek readers (Hayek being the second most popular classical liberal writer among classical liberals, after Friedman) suggests that Robert is right. Hayek readers are slightly more likely to give the 'correct' classical liberal responses to questions on school curriculum setting and funding.
Note the terminology shared between Norton and his commentator. Private education and having states compete in delivering curriculum is a position that "favour's freedom" and is the "correct" response. (To get the full context you might need to read these two blog posts 1, 2)
Yet whilst robert, andrew and myself all hold individual freedom as the primary goal, I don't see how that is best achieved through encouraging a market in education. To wit:
1.The options for parental choice are limited: People are limited geographically and to a certain extent socio-economically. And whilst ideally parents may move to good schooling area's when their children begin school, the ability and likelyhood of moving again to facilitate a better educaiton is almost non-existent. Parents simply make do out of limited choices. Markets can work with only a few choices available, but the selection between then at relatively low cost is critical, and in education non-existent (a factor no government intervention can really overcome – at least not in a private system, more on this later)
2. For children, there simply is no choice. Not only do their parents dictate their education, upon turning 18, people cant and simply wont go and repeat parts of their education should they decide that other vendors are better equipped, cheaper, whatever. They will instead go into another industry, such as choosing between tertiary education providers, or simply leave behind the education market altogether.
3. Together these two points dramatically work to limit the cost or benefits to schools for adapting to the market in issues such as 'best practice curriculum'. Schools have significantly lower need to be efficient or cutting edge than any business in a real market.
4. Norton presents this debate in the context of choosing between having a nationally delivered curriculum, a state delivered curriculum and 'competitive curriculum'. Here, the 'freedom' of having schools compete in what curriculum is seen as the highest principle and therefore the 'correct' approach. Yet the group who benefits from this freedom is a very limited selection of the general public. That is, school teachers and administrators who can implement a variety of curriculum's that they feel best benefit the students (or suit their own skills/interests) and a limited selection of students who do indeed receive the 'best practice' available at the time. As with points 1-3, the actual flow of information and therefore new curriculum will be limited, not to mention the difficulty and cost of implementing new curriculum's each year; hence even students whose parents have sent them to the 'best' school may still miss out on the highest standards due to implementation issues/unlucky timing.
What this presents is an idea of a market which ticks some of the basic liberal box's (markets, freedom) the market would be inefficient and the freedom limited and largely superficial. Meanwhile the social effect (again a Liberal concern) would be that some students within the system would largely miss out on even an acceptable level of education due to either flawed curriculum (ie an experiment gone wrong), or more likely stay stuck with a consistent, but lagging curriculum chosen by only a handful of local professionals years before and kept in place by tradition and the static effect of the costs of transition.
All this becomes even more apparent when you look back and read the classical liberal thinkers, and not the modern economists who have championed their ideals. Education has always been at the heart of the Liberal ideal because it is perhaps the primary means in which individuals can better themselves and in which they can be prepared whilst children to become independent, responsible, self-fulfilling members of society. Freedom within the liberal context is based upon the individual being aware of their choices, of having knowledge of the flow of information in order to make educated choices between competing options. None of this is available to the illiterate or the educationally deprived. As such, this Liberal would argue that the greatest freedom is delivered not in schools choosing between curriculum, but in individuals being the best possibly prepared to engage the modern world as adults. That is, the short term cost to schools in losing that competition (and to some extent to parents), is offset by having the end product individuals significantly better prepared to independently engage society and exercise their individual freedom in a range of industries.
Given this, the argument for a national curriculum to ensure individuals are well prepared, with such a service delivered by both public or private schools (who have the option to add additional subjects such as religious education), seems a pragmatic but ultimately more profitable approach.
Yet none of this seems to even register in the debate that occurs within 'Classical Liberal' and Libertarian circles. That the market is the primary way in which Liberal principles are to be achieved is held without question to be the 'correct' answer. Dissenting views from this ideal are almost not engaged with. Now there are several reasons that could be attributed to this. First is the traditional benefits of markets in other areas to provide liberal ideals, along with the general 'siege' mentality that seems to lead some liberal/libertarian thinkers to think they are still facing great statist forces as occurred in the 20's, 50's and 80's, and not within a very market orientated culture. Likewise is the effect of the economist's who became the primary public advocates for liberal/libertarian ideals during the late 20th century (Hayek, Friedman etc).
But either way, it makes for a strange experience to engage people who share very similar principles and ideals, and yet be able to predict without reference to circumstance the policy prescription they favor. Its not that I disagree with them in all cases, and Norton deserves credit for being an intelligent voice advocating an alternate solution within the Australian education context. It's just that it's 'correctness' and correlation with liberal principles like 'freedom' is simply expected due to the means advocated, rather than a more hard headed analysis of the actual ends to which such a system would deliver. Like the statists within social democrat ranks, marketeers within the classical liberal/libertarian ranks have managed to convince their fellow ideologue that the means are actually the ends. Odd.
In a distant time and place, I began a PhD looking at how the internet and related technology was affecting our conceptions of politics and the public sphere. Eventually given the morass and confusion inherent in such a debate at present times (and the chasm between boosters & degrader's) I eventually, and reluctantly gave up on the project. There is much there to write in the future, but for the time being, simply taking note of how the internet and related technology is shaping politics (particularly in non-democratic societies) is a passing interest of mine. So here's a few links if the issue likewise sparks your fancy (and as an excuse for my light blogging today as I work towards the deadline for handing in chapters)
The protests began after a conversation between Ms Morar and six friends in a cafe in Chisinau, Moldova's tiny capital, on Monday, April 6, the day after the parliamentary elections. The elections brought a larger-than-expected victory for the incumbent Communist Party.

Suspecting vote-rigging, "we decided to organise a flash mob for the same day using Twitter, as well as networking sites and SMS," she said, speaking at a secret location. With no recent history of mass protests in Moldova, "we expected at the most a couple of hundred friends, friends of friends, and colleagues", she said. "When we went to the square, there were 20,000 people waiting there. It was unbelievable."

The demonstrations continued into Tuesday peacefully. But later that day, with no response from the Government, angry protesters swept police aside to storm the parliament building and the presidential palace opposite. Fire broke out in one wing of the parliament, and the protesters vented their fury by wrecking computers and office furniture.

"Not only did we underestimate the power of Twitter and the internet, we also underestimated the explosive anger among young people at the Government's policies and electoral fraud," Ms Morar said.
And closer to home:
Blogs continue criticism in Fiji
Fijian bloggers have mounted an online tirade against the military regime as the government pushes on with harsh media censorship and wide-ranging reforms.

Frank Bainimarama's government has silenced Australia and New Zealand's radio transmitters in Fiji, thrown out international media and imposed tough reporting constraints on domestic media, leaving an information vacuum in the beleaguered state.

In the latest reports, international freelance journalist Pita Ligaiula has been detained and two Fiji Times newspaper journalists were summoned by government officials to explain "negative" coverage.

The censorship has pushed voices of dissent underground, onto several active blog websites that deride Bainimarama as an illegal leader.
What mainstream media there is, has been forced into printing non-news like 'Man gets on Bus', rather than just blank holes in protest of the governments censorship.
Whilst there are many out there in the developed west cheering on the downfall of the MSM (mainstream media) and urging bloggers onwards, it is in the developing and third world that the most interesting and democratic use of technology is to be found. The big daddy of them all currently is the site Global Voices online which gives a great overview of develops around the world. If you prefer a more personal voice in blogging (as I must admit I do) then take a ganger at
Ethan Zuckerman's site 'My hearts in Accra'. Zuckerman has spent a number of years in africa and the third world assisting the spread of the technology and integrating its use in these communities, and regularly updates with fascinating links. Whilst not always directly on topic, another must link is to Andy Carvin who whilst not blogging much anymore, has been going since 1994! and one of the best sourced writers.
More academically speaking, I would be remiss not to link to Clay Shirky whose book 'Here Comes Everybody' is a must read for scope and insight on the coming impact of technology on society. Whilst more socially than politically concerned Shirky has emerged as one of the sharpest new voices on the impact of the new technology, without coming across as merely a dot com booster as so many other young writers on the subject inevitably end up. (In fact part of the reason I abandoned the field was the depressing number of utopian pieces that from even the 1980's predict the coming democratization and liberalization of society due to this technology. Even 30 years later, with blogs and twitters and the like proliferating it still isn't anywhere like such a scope, and one must imagine, given human nature, never will be.)
But Shirky also (via Carvin) relates one of my favourite episodes above, one immediately brought to mind by the Moldovian case at the start of this post: Nothing Says Totalitarianism like arresting kids for eating Icecream

By Andy Carvin: In many countries, flash mobs are often seen as communal practical jokes or even performance art, with hordes of participants suddenly showing up in a public place, doing something irreverent, then vanishing without a trace.

In Belarus, young people are employing flash mobs to push the boundaries of what the government will tolerate in terms of free assembly. Last Friday[May 2006], flash mobbers descended upon a public square in the capital Minsk to gather together and eat ice cream. No rally, no speeches, no sit-in nor march – just standing around and eating ice cream:

If this were almost any other country in the world, standing around eating ice cream wouldn't even cause the local authorities to bat an eyelash. In Belarus, though, it was treated as an organized public assembly, so plainclothes government agents broke up the event, arresting some of the young participants:
In the west flash mobs are a fun joke. In other parts of the world it can be taken as a serious challenge to the authority and control of the government.
Politics still operates essentially as it has for the last 300 years in the west. Parliament, the Executive and the Courts set the laws and the people form as various mobs pushing and pulling society in an ever expanding bubble past modernity and across the entire globe. The new technology has not changed, nor will it likely change such a pattern. No robot presidents will emerge. But it is at the very least a powerful tool for the dispossessed, the minority and the forbidden to advocate their cause. Like hitting jelly with a hammer, those using the new technology will often find a way around, though as in the first case I linked to, it doesn't guarantee the safety of any just yet. But we can hope.
By now most of you have seen this hard-hitting speech by Member of the European Parliament Backbencher & Conservative Daniel Hannan.
As speeches go, it's a nice effort, clear and concise, and whilst relying a little too heavily on common instead of economics sense it makes a few good points. It's interesting therefore to see Hannan's own reaction to the video going viral:
When I woke up this morning, my phone was clogged with texts, my email inbox with messages. Overnight, the YouTube clip of my remarks had attracted over 36,000 hits. By today, it was the most watched video in Britain…..Breaking the press monopoly is one thing. But the internet has also broken the political monopoly. Ten or even five years ago, when the Minister for Widgets put out a press release, the mere fact of his position guaranteed a measure of coverage. Nowadays, a politician must compel attention by virtue of what he is saying, not his position.

It's all a bit unsettling for professional journalists and politicians. But it's good news for libertarians of every stripe. Lefties have always relied on control, as much of information as of physical resources. Such control is no longer technically feasible.
I want to raise two contradictory points here, so as to really assess what is going on. First, politicians have always known that bold or controversial claims always attract far more attention, and this is what compels journalists to listen to them, and secondly, this is not necessarily a good thing.
To the first: Ever since there have been politicians, the need to say something that captures the ear and quickens the pulse of your listener has been the politicians basic requirement. Whilst legislators may themselves appoint Solon's to fix problems, and wise elder statesmen for Head of State roles, to get into the legislature itself you need to be bold. Some like Winston Churchill just seemed to attract controversy wherever they went in life, and combined this with actual administrative and parliamentary ability. Some, develop it over time, and through sheer determination force the media to pay them attention such as former PM John Howard. And some are fools who say the first thing that pops into their head, or deliberately make outrageous claims so as to gain attention. Such as Pauline Hanson.
In short, this is not a new phenomena. I've been reading David Day's biography of Andrew Fisher recently (5th Prime Minister of Australia), and time and again the mild mannered, careful and cautious Fisher had to either get a running mate who could attract attention, effectively run his own left wing paper so as to be heard, or spend most of his waking hours visiting communities so as to be head. He proved a very capable parliamentarian, and all who met him were impressed by his talents, yet as a politician he struggled in large part due to his own cautious temperament. Something that proved of great virtue when Prime Minister. A further example. Whilst probably not cut out for the Parliamentary life, and certainly not adverse to saying controversial things(letting women vote for instance), John Stuart Mill, Englands greatest ever philosopher, barely won one term. Mill's difficulty in public stemmed in part because he did not deign to be controversial on the stump, and preferred to discuss rather than rant, and sometimes even grant the point of his opponents, so as to make his own position clearer. Voters didn't much like this and soon kicked him out. In short, the need for politicians to say something noticeable over something sensible is as old as the profession. And whilst the argument can be made that the standard of debate and political literacy (ie references to philosophy or literature) has surely dropped, it never was that high in the first place.
So when Hannan says that finally a politician must "compel by virtue of what he is saying", he's not saying anything particularly new. And whilst he uses the word "virtue", controversy, outrageousness, and deliberate hyperbole all seem a better fit. Hannan is not the first, nor the wisest to criticise Browns many economic failings, but because he was concise and willing to dip a bit into hyperbole it got attention.
Now, to the second point: is this a good thing or not? Well yes and no. The internet is clearly a wonderfully democratising tool, of which this blog is evidence. Yet as we've seen -and again I want to stress how over the top politics and its coverage has always been- and by adding a million new voices, both online, and now elected officials around the globe (I'm an Australian, talking about a British Member of a European Parliament, who I was first linked to by a man living in America), then the overall level at which you have to speak has to keep rising and rising. In short, I fear we are slowly drowning out the more sober and softly spoken voices, in favour of the brash and the bold. Cable TV is the all too easy example of this, Bill O'Reilly and Rush Limbaugh do more to influence the political thought of Americans today than all the University Professors in the country combined. In large part, that is their own fault, and our own fault. There are no excuses for an inability to communicate. But whilst democratising, this does run the risk of debasing just as much.
For this reason, as strong as my democratic spirits are, I dont see a justification for having a popularly elected president for Australia's republic, over someone chosen by 2/3rds of the House of Representatives. Afterall, who would the public pick, but someone who has made their name entirely outside the field of politics. Anyone who has spent their lives learning & talking about political issues necessary for a head of state role, is either too unknown (from Uni Professors to elder Community figures like Major Michael General Jeffery or Quentin Bryce) or too controversial (Hawke, Keating, Howard). Instead it would be former sports stars, or perhaps a TV news reader or former actor. In other words, the greater the number of voices involved in the decision, the more likely someone entirely unqualified will take attention and hence the position.
So Hannan is right to welcome in the challenge to the stuffy control that the political media still exercises over the political process. I can't count how many times I've ranted to journalist friends at the herd like nature of the press gallery for following the same story and refusing to let new voices in. As a liberal who pushes issues outside the mainstream approval such as legalising Marijuana, Homosexual Marriage, and severely cutting down on our middle class welfare state, I know all too well the impossibility of getting such views heard.
But there isn't always a correlation between ability to say something that will get noticed, and ability to actually govern. Winning elections is a very different skill from governing well, as George W. Bush proved eloquently. So whilst I think it's great that Hannan's speech got noticed, lets neither convince ourselves this is a new era of politics, nor that it is a change without its own associated problems and risks.
(I was going to put in the self-pittying point that such a conclusion is neither bold nor controversial so wont be heard, but what's the point as no one will read that either :P)
This blog is of course called chasing the norm, and the latest hot norm is of course to claim/disclaim the possibility of an alliance between Liberals and Libertarians, at least intellectually if not politically (Libertarians can only offer a few votes, but do represent a solid branch of the Reagan Coalition between Economic Liberals and Social Conservatives, which Liberals would love to rip out). This was a topic brought up in 2006 by Markos Moulitsas (of Daily Kos fame), urging Libertarians to vote Democrat, and has been raised on a number of major blogs recently see here here and here.
If this is marriage is to be one of more than just an American born alliance of political convenience to defeat the currently inept Republican party, then some changes in rhetoric and perception need to occur on both sides. That is to say, I believe most of the differences are political over policy based. They are tough to change, but not insurmountable.
The great difference between Liberals and Libertarianism is the question of Economics. Indeed many of them are proud to say Political Economy is the only issue upon which they vote. Whilst I have great sympathy for the basis of their arguments (leaving aside the fringe wing which want changes like returning to the Gold Standard), this economics and only economics issue is crippling to both the wider appeal of Liberatarianism, and its usefulness as a political ideology. Libertarians are able to be so dogmatic because they wish away so many of the associated issues, despite having a consistent ideological end point with Liberals.
For example Education: Whilst a fully rounded view of Freedom would desire Individuals to be educated to as high a standard as possible so as to make the most of their opportunities and freedoms, and allowing them to be as capable and prosperous individuals as possible (which offers compensatory economic benefits to the society). So on a view of freedom as individual flourishing you would support a universal education system. But on a view of freedom as purely an economic interaction, then government education imposes tax burdens on the individual and crowds out the market for private education providers, thus allowing the individual the freedom to choose their (or their children's) own level of education (if any), or go into business running a school. Now I doubt many Libertarians actually embrace the idea of vast sections of society choosing not to educate their kids (indeed Libertarianism is such a niche that it's reserved almost entirely for those who are quite well educated already). Thus & combined with their rhetorical focus almost purely on economic issues, what begins as a respectable duel legged stance of freedom in education (choosing ones education and/or choosing to open a private school) ends up being a economic pronged attack on government solely to allow a few more people to open private schools, whilst degrading the entire education system of the country.
There's also a problem in the economics here too, that whilst private schools reduce the burden on tax payers (around $4000 a student in Australia), the field of education simply doesn't offer the potential for a real working market. Whilst perhaps few choices are more important for an individual, our choices are actually very limited for what schools we will send our kids. Only in the largest of cities is there more than a handful of choices (indeed in some towns only one or even no school may be privately economically viable), and yet factors such as geography, closeness to work, the presence of school friends attending, the religion (and the church has been the biggest private educator for millenia) all serve to limit our choice dramatically. What should be a parent choosing the very best school possible for the education and well being of their child often ends up a decision of convenience between no more than 2-3 options without significant information ever likely to be available (you can test drive a ford, or return a broken hair dryer, but what if your kid doesnt like the school, or you dont like some of their attitudes which are hidden behind the glossy brochures).
From a economic driven view of freedom it makes sense for education to be private, but in outcome it ends up a petty and small effort to promote private education (or simply decry government wherever it is found) without actually encouraging significantly better individual choice for parents, or individual freedom for children by receiving a high quality education to enable them to fearlessly engage the world upon graduation.
This sidestepping of experience for a desire for ideological consistency (ie process over outcome) seems well encapsulated by this anecdote from Matt Steinglass:
I keep encountering American libertarians traveling in Vietnam, and each time I think they're going to be forced to revisit some of their core assumptions; they all like Vietnam because in comparison to other third-world countries there's no crime, the services actually function, governance works, and therefore it's a great place to do business and has a thriving and expanding capitalist economy. I imagine they will be forced to perceive the ways in which Vietnam's extremely group-oriented Confucian culture, where decisions are generally made at the level of the family or the work unit rather than the individual, renders many incentive systems based on individual decision-making hapless and ineffective. (See: much of the US's "hearts and minds" efforts in the Vietnam War.) And yet each time I find they leave with their convictions happily unscarred by any encounter with reality
I noticed the same effect, though with semi-libertarians now charged with running the government themselves in 2003 when the US run Coalition Provisional Authority in Iraq set about making major structural reformations to the shattered country of Iraq. Regardless of the the differences between the USA where they had formulated their ideas and the circumstances they found in Iraq, the CPA's policies were right out of a Conservative/Libertarian utopia. Everything that could be privatized would be, tariffs and regulation were to be ripped up, and a 15% flat tax instituted. Now whilst other factors like an insurgency rudely interrupted this grand design, in case after case where the reforms had been lead by hired ideologues, they failed or barely functioned (In one notable case, the chief economic advisor to Iraqi proconsul Paul Bremer cheered on Iraqis post invasion theft of state owned bus's & taxis as a form of 'robin hood policy' as it would allow individuals to begin running their own private transport services)
Neither the success in Vietnam of collective approaches, or the failure in Iraq of libertarian ones mean that the theory is at fundamental fault. Instead it demonstrates the need for a context sensitive approach to governance that is fundamentally lacking in much of our political culture, but especially amongst libertarians.
The principles are not wrong, but by focusing on process and not outcome, Libertarians almost abandon their claim to be a political theory (which promotes certain goals like individual freedom) as opposed to being a economic or social theory which seeks structural organization without regard to outcome (for example theocratic theories which preference the organization of society above all other goals)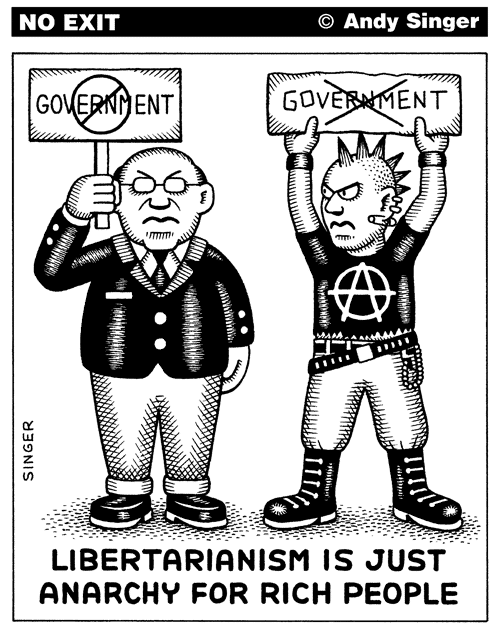 Libertarianism, especially the earlier thinkers or the more academic ones like Hayek seem to regularly acknowledge the importance of shifting process for outcome to benefit the individual, rather than ideological purity around certain forms of social organization. Take the right to property. Maximum Individual freedom need not logically be built upon a theory of private property, however through the historical process we have come to see that private ownership works as a basis for supporting individual freedom. Despite the pernicious effects it can sometimes have in society, and distorting effects in the market (ie inherited wealth) it is a fundamental basis for our conception of individual freedom. Libertarian philosophy incorporates this element because of its effect, whilst simultaneously rejecting other elements so as to maintain an apparent ideological clarity that ends up harming their claim to be a political philosophy of individual freedom, rather than just an economic theory. To be taken seriously as a political philosophy then political ends like freedom need to drive policy, instead of ideological insistence on certain processes -like private property- which may be aid that political end in other areas. If Libertarianism is more than just "anarchism for rich people" as the cartoon so mocks, then where the evidence demonstrates governments role in enhancing individual freedom (as in Education above), the that must drive the Political Philosophy, rather than simply falling back on the same processes that had increased individual freedom in other areas (such as tariffs & trade)
On the other side however Liberals, if anything may also be justly accused of a reflexive weakness in philosophy, consistently seeking to defend the status quo, rather than pushing for true liberal change as desired. From moral issues such as holding back on Gay Marriage or Euthanasia, to Economic (accepting monopolies such as the supermarkets or protectionism for agriculture) Liberals end up giving Libertarians a clear and coherent opportunity to attack the contradictions in such a theory of governance.
A marriage of Libertarianism and Liberals would be beneficial for both groups. For Libertarians to help shift its principles into the mainstream debate and away from just the field of economics, and for Liberals to use this new public voice to help steel themselves during times of conservative or leftist attack when maintaining the status quo is seen as an easier political path than engaging reform as needed. This does not mean that such philosophies will not differ in their response to challenges such as the economic crisis, but each could learn and mutually benefit from the others expanded role. Their end point is the same, individual freedom. The question is what pragmatic approach achieves that outcome, without causing more social harm than it seeks to benefit. Such an answer differs over time and context. Something that Liberals seem to have learnt if a little too well in their desire to be seen to do the right thing to keep their role in governance, and that Libertarians find almost offensive which works to keep them from having consequence via governance (or as in Iraq abysmal effects). One weak but involved, one strong but isolated. It's not a marriage made in heaven, but then what of mans hand ever is…
Via Andrew Sullivan, comes this intriguing comment by his conservative colleague at the Atlantic Ross Douthat
the battle between social conservatism and social liberalism at the moment isn't a battle between competing utopias, but a battle over which tragic choice is worse: The choice to stigmatize, which can damage and even ruin lives, or the choice to destigmatize, which can damage and ruin countless lives as well….we've come a long way down their road, and I think we know enough about the consequences to say that there would be real gains to human welfare available – for downscale Americans, especially, but not only for them – if we were to go some distance in a more conservative direction.
This may seem a basic utilitarian argument: what are the outcomes of each choice, and how best might we shape society for the greatest happiness. But there is one crucial calculation left out here: Destigmatizing human relationships, that is social liberalism, by its mere presence grants each and every one of us the individual freedom to actually make a choice.
We may not like the outcome of some of these choices, but it is superior in almost every way, whatever the outcome, that such a choice has actually been made by the individual. Without such a choice being available we can not expect the individual to accept responsibility for the outcome, nor equally can we praise the actions of those we think made the "right" choice, if they did not feel they had any other option available to them.
Without freedom, no happiness is possible. No figure in history has ever sought to celebrate the happiness of the slave, whatever his access to good food, social stability, or access to pleasure. That is why utilitarian arguments have always been so centrally concerned with individual freedom, and championed by those like Bentham, Mill or Singer who wish to promote as much individual freedom as possible, rather than social conservatives who, (were it not for their love of pre-received authority) would be natural allies of such a strain of thought. If we truly do need such harsh social shame and stigma to produce positive outcomes, then utilitarian calculations would be perfectly suited to justifying it. But instead, for reasons more of history and religion than logic, Conservatives pretend their claim is a moral one, when at heart they would wish to deny all human choice, and thereby cannot claim any more a sense of morality than we may expect our laptop or toaster to be "moral" in doing what they are engineered to do.
Freedom mis-used, is still freedom. As a society we do desperately need to act to try and fix some of the social ills we see, for example:
We[Australia] have 7.8 million households in this country; over 10% of those have experienced a break-in.
We have 16 million people aged over 15 in this country; 5.5% have experienced sexual assault.
191,000 males between 18 and 25 reported being assaulted in 2005 – 44% of those in bars.
But, it would be meaningless to try and solve these problems by first trying to prevent what makes us human, and is the prerequisite for any life worth living: Individual freedom in the pursuit of happiness.
Towards the end of the Conservative love affair with G.W. Bush came the common refrain that Bush was actually a closet liberal in his big government spending ways.
Whilst government is often a critical element of many liberal policies in ensuring education, health care, and a social safety net, what I object to is the idea held by the right/large elements of the press that Liberals think increased government spending is an intrinsic good in itself. That just making something a part of the Government books is a benefit to society regardless of the policy outcome. But this is simply not true. Liberal policy arguments never make government spending a positive value in and of itself, instead it is usually seen as the only viable way in which some services can be delivered in cases of market absence (defence) or regular failure (education).
As such, it's nice to see some of the bigger left wing voices actually talking about the issue:
I am, oddly enough, not really in favor of vastly increased funding for other social programs. Some increased funding is OK, but it should be kept under pretty strict scrutiny — and not just on the generic grounds that all spending ought to be monitored carefully to make sure it's effective and pruned away when it's not.

Here's why. I'm obviously more open to high government spending than most conservatives, but even liberals think there's a limit to how much of the economy ought to be under government control
Nobody on the left ever really talks about the issue of exactly how big we can envision big government getting down the road… Markets, doing their work, will make those sectors more and more efficient leading them to shrink as a share of the overall economic pie. What will be left is big government. Or, rather, bigger and bigger government. Teaching kids. Taking care of the elderly. Patrolling the streets. Making the SUPERTRAINS run on time. And it's going to be fine.
Which isn't to say we should crank spending up to 93 percent of GDP next year. .
Unfortunately both Drum and Yglesias advocate increased government spending, but at least they are beginning to open up the debate on just what Liberals, now that we are in power in America and here in Australia really want to do, and what government spending is needed to facilitate that. Because as you can see in both arguments listed above, though increased government spending is called for, it is always for a specific purpose, rather than anything intrinsic in its own benefit (though Yglesias somewhat defends such thoughts)
But at least the debate is beginning to be held. The Australian Prime Minister Kevin Rudd may rightly be declaring the death of NeoLiberalism due to the GFC, but that doesnt mean we need to abandon Liberalisms principles. Government shouldn't be any larger than it absolutely must be. Welfare spending should be tightly targeted and intended to return people to society, rather than a continuous handout for those who could otherwise provide for themselves, and taxes should be as low as can be accommodated without leaving government broke.
Government is a force for good in society, but increased government doesnt automatically mean increased good. It has to be tied to specific priorities and fields. And where we can get rid of it, or leave people to themselves then it should be a principle of all liberals who decry the heavy hand of stigma, tradition or bureaucracy to force people to act otherwise than they might have chosen. Inevitably this idea of liberalism will mean some trade off's. Reducing government nannying on tobacco lets us more earnestly stop its refusal to accept Gay Marriage. In both cases the individual should be supreme, and in both cases Government is not in control of the behaviour of people. Smoking rates are going down because society, not government has changed its view. In reverse society is increasingly embracing homosexuals as normal members of the community deserving the full recognition and support of the law. Likewise for efforts to prevent internet filtering or censorship of Video Games.
Liberalism is in a period of re-birth at the moment, but we need to be careful that the practices of a decades defense of government and the already existing programs from the harmful ravages of the right, doesnt translate into an automatic desire to expand or continue defending every dollar, now that the programs are in friendlier hands. It will take time and confidence before liberals can happily urge the removal of some ineffectual or pointless government spending without worrying that it will allow the Conservative and the callous to leap on it as proof Government is the problem. As Barack Obama urged in his inaguration speech:
The question we ask today is not whether our government is too big or too small, but whether it works – whether it helps families find jobs at a decent wage, care they can afford, a retirement that is dignified. Where the answer is yes, we intend to move forward. Where the answer is no, programs will end.
If nothing else, such a confidence would help prevent Conservatives recasting failures of their own efforts as somehow sins not of their own making. Bush wasn't a liberal in his big government ways. He was just a big spender, just as John Howard was here in Australia from 1996-2007. Nothing more, nothing less.
Rather than just recounting the details of my "About" page, I thought i'd post an article I wrote a few years back that is the real inspiration for my blog and academic career:
150 years ago this year John Stuart Mill published 'On Liberty'. To my mind, no finer work of english language has been written, not just for its clarity and force of language, but the importance of its cause.

The point and purpose of Mills classic essay 'On Liberty' is to advance one simple principle
"The only purpose for which power can be rightfully exercised over any member of a civilized community, against his will, is to prevent harm to others. His own good, either physical or moral is not a sufficient warrant."
These words, when I first read them as a disillusioned 20-something rang out to me like no other piece of literature, film, philosophy or writing ever has. Mill in two short sentences lays out the absolute limits of societies hold over the individual, in a way that can be applied in each case and circumstance as calculatingly and rationally as Mills Utilitarian ethics demands.
But for me, whilst there is such great intellectual resonance in this phrase, and however quickly it formed a key principle on which I base my own political philosophy, it was not simply the intellectual, but the emotive which makes this work stand out for me above all else. 
Mill's own education and formative years are unlikely to be matched by anyone of contemporary eras, and nor should it be. He was reading Plato in the original Greek by the time he turned seven, Latin commentaries on the Roman Republic at eight, and devising his own logic systems in response to Aristotle at twelve. Mills education by his fathers hand was designed for the express purpose of turning him into the chief proponent of the system of Utilitarian ethics, summed up blandly as 'the greatest happiness for the greatest number'. 
Mill suffered for these trials, and by age 20 he experienced a mental breakdown and deep depression for over 6 months. This black spell only began to abate when he turned to literature and poetry and found in them the non-purely rational and intellectual demands and rigors as had been so harshly forced upon him by his father's expectations. 
I first encountered JS Mill when I was of a similar age, though a very different background. I had cruised through school, convinced my schools name and status would entitle me to a place in university, and when I found myself only able to scrape into the local TAFE I had to wonder at my choices. I attempted to overcome this through my own program of study, beginning with the man to whom all western philosophy is mere footnotes, Plato. (Whitehead in Russell 2004)
But in Plato, however great my admiration for his thought, language and ability to challenge common dogma and encourage philosophical inquiry, I found a man whose totalitarian system of political organisation I began to loathe. Further pursuits into Philosophy, notably Hegel, Kant and Sartre seemed similarly torturous, either for their repulsive ideas or turgid language. 
I first read Mill sitting on the bus one evening on my way home, and when I first came across that passage 'The only purpose for which power can be rightfully exercised over any member of a civilized community, against his will, is to prevent harm to others' I was dumfounded.
Mill for the first time in my education seemed someone who could not just write but express the very notions and principles that were beginning to form within my own conscious. I found in Mill not just a realization that participation within the great political and philosophical debates was possible, but that there were natural allies and reasonable, and sensible men involved in these to whom I could look for inspiration and agreement. Finally I could escape having to grit my teeth as I read Plato or Aristotle for the purpose of improving my mind, all the while detesting most of what they advocated.
Mill's purpose in the essay is to stress the importance of individual liberty, not simply from the tyrannous king, but also from the majority when acting as a mob. In the face of those who argue we must censor thought or discussion, he recognizes that it is as wrong for one man to stop all humanity thinking or advocating a certain position, as it is for all humanity to stop just one man. Likewise, those who are possessed of the truth are as much robbed when discredited and heretical views are censored, -for they lose the ability to test and prove their own beliefs-, as those who actually holds such views are damaged by this censorship.
Mills individualism is a classical individualism. He does not see man, as Thomas Hobbes or John Locke might, once free and now in the chains of the state (to which all good liberals and individualists must seek to hold back its omnipresence), but rather his individualism, and liberalism is a search for development, and the pursuit of character.
Though I was only dimly aware of it at first, each time I re-read On Liberty, Mill's declaration of the supreme sovereignty of the individual, what resonates is not just the demand for personal freedom as self-protection, but a clarion call for self-development.
Mill advocated the supreme liberty of the individual not according to some abstract 'natural right' handed down by god or nature, and never utters the words 'human rights' but instead seeks that we may use freedom to develop our utmost in character and virtue. This Mill argues is the true aim of human freedom and purpose.
As Mill writes in an often ignored passage in 'On Liberty' 
"the cultivation of an ideal nobleness of will and conduct, should be to human beings an end, to which the specific pursuit either of their own happiness or of that of others (except so far as included in that idea) should, in any case of conflict give way."
Mill does not seek liberty simply for its own sake, but according to his utilitarian principles so that we may for our own sake become who we truly are. Mill does not seek to hector or demand we follow his moral or personal as a local priest might, but instead demands the state guarantee us the freedom to take real responsibility for our own passage in life and use of that freedom.
For a disillusioned young man, John Stuart Mill's work 'On Liberty' spoke to me of three great themes. One was recognition that there were great and sensible philosophical minds I could honestly engage with, and find some common agreement. And If I could agree, I reasoned, I could surpass. I also found in Mills simple principle the most honest and forthright principle for the organisation of the states laws that has been before or since been presented. 
And finally, I found in the space and freedom he offers via his principle, an opportunity, and a calling to take responsibility for the use of that freedom. The slave is never answerable for his actions, only the free man is. That is the burden and the joy of freedom. And for Mill, it was the development of that character and virtue as would guide us in our choices to which individuals must turn their focus and thought. 
Mill's work gave me reassurance I could understand and argue at this level, it gave me opportunity, it offered clarity and common sense, and perhaps most importantly it demanded I take responsibility for my choices from that moment forth. That I am where I am today, PhD student, Lecturer, blogger, is in large part due to the influence of John Stuart Mill and his essay 'On Liberty'.
p.s – I chose the image for this post because it shows Harriet Mill, his beloved wife, and too whom 'On Liberty' is dedicated and is her proper memorial. Also because the more traditional image of Millas the dour faced victorian doesn't do justice to the passion of the man in both his writing and life.
About Me:

I am a Senior Lecturer at the Strategic and Defence Studies, Australian National University, Canberra.

This is my official site to host academic publications and reviews of some of what I read. See the Book Reviews page for a full list, or scroll below for recent reviews.

Categories

Archives